Dr. Dog Talks New Album, New Label, Listening to Dr. Dog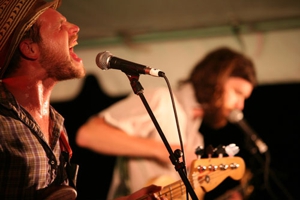 [Photos by Mark C. Austin]
Dr. Dog is a dependable band.
The Philadelphia-based quintet has released five albums, each receiving increasing acclaim and popularity, and each maintaining the quality of the last while pushing the band's sonic boundaries a bit further. Now, the band has just finished work on the sixth, Shame, Shame, which will be Dr. Dog's first release for Anti- records. It marks a concerted attempt by the band to be truer to its live shows, but it's not a drastic departure. Still present are the sunny three-part harmonies, intricate slide-guitar duels and classic-rock echoes that adorn Dr. Dog's catalog.
Shame officially drops April 6, so singer and bass player, Toby "Tables" Leaman took advantage of the momentary lull to talk to Paste about the new album.
Paste: You guys always seem to take great care in crafting the songs, and your albums generally have a point of view. For Shame, Shame, what was the point of view? What was the feeling that went into this collection of songs?
Toby Leaman: Overall, the songs, lyrically, tended to be a little darker than they've been. I don't know why that was. Those were the songs that were good, I guess. I don't think either one of us are down or anything, more than we've ever been. A lot of the songs are about being confused or feeling sort of detached. Those seem to be the lyrical themes that run through the record—just general discomfort.
Paste: There seems to even be a little bit of love lost or something like that.
Leaman: Yeah, there's a lot of that. There's just a lot of yearning for something that you're not even really sure what you're yearning for. There's just some of connection that you're not getting most of the time, which I think has a lot to do with the lifestyle the band lives, which is being away all the time. You feel like you're sort of a phantom in your own life. It feels like you're not really there.
Paste: As you've steadily grown with each album, the touring has taken up more of your life. Has that experience changed you as musicians or been different than you thought it would be?
Leaman: Absolutely. Just like anything that you really want to do and you really aspire to, there are things you just have to accept the fact that you have to give them up. You know, we know. We know. You look at a calendar, and you're saying, "Oh, man. I'm going to be gone for two and a half months in a row." It doesn't take a genius to figure that one out. Definitely, I think that comes through on the record. I mean, it's not like we're writing songs about the road or anything like that, but just that kind of disconnect, the record seems to be rife with that stuff. And, once we sort of saw the lyrical threads that tied the record together, we wanted to keep all the songs in that vein. To me, this record isn't morose or complaining or anything like that. It's just reflecting on whatever situation you come up with, and a lot of Scott's [McMicken] songs that talk about where we live and stuff at home. He's sort of a vagabond. I don't know; I love it. It's a much more intimate album than our other ones. I mean, there are a few sort of heavy-handed songs that I wouldn't call the most touching, most thought-out, intricate pieces of poetry or anything.
Paste: Well, that's rock 'n' roll.
Leaman: Yeah, it's rock 'n' roll. It is what it is. But, I think overall the songs are much more intimate. A lot of them are a lot more wordy.
Paste: It seems like there aren't many bands that have two main songwriters anymore. Does your relationship change to the songs that Scott writes?
Leaman: Not much. I feel like we're pretty good about picking songs that everybody's passionate about. So, once a song is in the band, once we commit ourselves to working on it, I feel like it's as much mine as it is Scott's and vice versa. I mean, we have carte blanche to do whatever we want on each other's songs. And everybody has that. We're fully committed to each other's songs.
Paste: Has the label move, from Park the Van to Anti-, changed anything? What does it mean for the band?
Leaman: I don't know what it means for the band. I love Anti-. We sort of outgrew our old label and we left amicably. There were no hard feelings or anything like that. We went with Anti-, which was the label that we all agreed off the bat that would be a great label for us. I mean, we met with about five, six, seven different labels, but we went with Anti-, which is the one we always wanted to go with. I imagine it will mean we'll have probably some more records. I can only assume that, but I don't know.
Paste: Are there any specific points where you think Shame, Shame is an evolution from Fate?
Leaman: I feel like the instrumentation is really stripped down. We decided not to have, really, any instruments that we don't play on stage. That was sort of a conscious decision. We wanted to make this album an amalgamation of what we try to do live and what we try to do in the studio. Sort of meeting those halfway. Our records—and we do this intentionally—our records have always been pretty drastically dissimilar to what we do onstage. But, I love it. That's the kind of music I want to hear. That's the key with writing music, and that's what's so much fun about the band and recording and everything. Everybody wants to make music that they want to listen to. You want to make your records a record that you'd want to, you know, "I'll just put this Dr. Dog album on because I love it."
Paste: So, you listen to your own music?
Leaman: Yeah, I did today. I went for about three weeks without listening to it, just to get some distance so I wasn't continually mixing in my head. But yeah, I listened to it today as a matter of fact, and I loved it.
Got news tips for Paste? Email news@pastemagazine.com.
Others Tagged With