Getting to Know... Jason Boesel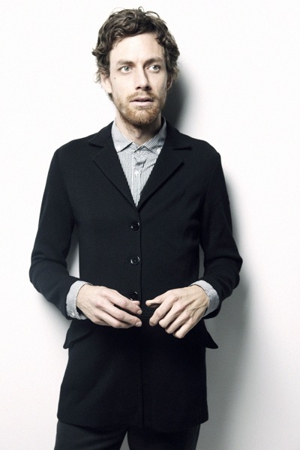 Jason Boesel—longtime drummer for Rilo Kiley and, more recently, Conor Oberst's Mystic Valley Band—released his solo debut album last month, but it hardly finds him going it alone. Hustler's Son features more than a little help from his friends, including David Rawlings, Orenda Fink and Oberst (whose Team Love label released the record). The result of his switch from the kit to the mic and a six-string is an album of breezy, guitar-strummed tunes that draw from 1970s folk-rock and modern Americana. Paste recently chatted with Boesel about his new role as bandleader, his love of Taylor Swift and the future of Rilo Kiley.
Paste: You've been a successful drummer for a while now. What sparked your interest in making a solo album?

Jason Boesel: I've had an interest in writing songs and singing for a few years now. At the beginning it was pretty slow and I wasn't very good at it, but I've grown a lot through the people I've worked with. I became more and more interested in making my own album about three and a half years ago, then got really serious about it about a year and a half ago. We went into the studio last year in March and it came together.
Paste: I heard that you learned a lot about songwriting from your old friend Conor Oberst. What's something he taught you that you used when writing Hustler's Son?

Boesel: It wasn't so much him teaching me tips as it was my learning through observation of Conor. He doesn't know how he writes songs, and I don't really, either. The main thing that I learned from him was this idea of transforming everyday experiences that are meaningful to you into words that are meaningful to others, that can express certain things that don't sound stereotypical. I've always just been a big admirer of the way Conor uses language. I don't think I ended up writing like him or sounding like him, but I certainly was inspired by his style.
Paste: Correct me if I'm wrong, but "Hustler's Son" was the first song you ever wrote. 


Boesel: "Hustler's Son" was the first full song I wrote. I'd been trying to write songs and had little pieces for a while, but that's the first song I wrote and finished. I wrote it a few years ago, and when Conor was staying with me for a month in 2005, I played him that song and he liked it and encouraged me to keep going.
Paste: So is "Hustler's Son" the title track because it was the song that sparked the album?


Boesel: Not exactly. I'm stoked that's a byproduct of choosing it as the title track, but I also just liked the song's sentiment. The line in the song that uses the phrase "hustler's son" is the only time that sort of theme comes up in the song. It just sounds like a cool phrase so I went with it for the album title.
Paste: How does being the principal songwriter and vocalist differ from being back there behind the drums? 


Boesel: I enjoy certain aspects of being the songwriter more, especially being able to have a little more control of the end product. It's a bit frustrating, though, because I'm a far better drummer than I am a singer. As far as what I hear in my head and want to execute, it's more gratifying if I can do it on someone else's songs and just help to improve them.
Paste: You played guitar and sang on Hustler's Son. Did it feel weird for you to switch roles and give someone else control of the drum set? 


Boesel: Definitely. It was weirder than I thought it would be. I sort of broke my own promise not to play drums on my own album, but I just heard it a certain way on several tracks and went for it. I really didn't want to do that, because I worked with two great drummers on it, but I couldn't help myself.
Paste: Hustler's Son has a distinct California vibe to it, in my opinion. Do you think your location has influenced the sort of music you make?


Boesel: I think it has, which is strange because I don't listen to a lot of California bands, per se. I think your environment certainly informs any sort of artistic project you do, though. California has a pretty palpable feeling, so that undoubtedly influences my work. And my friend Nik Freitas, who sings and plays guitar and was really instrumental in making the record with me, is also a California native, so it was double the California vibe.
Paste: You collaborated with some accomplished folks on the album, like David Rawlings, Taylor Goldsmith from Dawes and Blake Sennett from Rilo Kiley. Can I assume they're all friends of yours?

Boesel: Everybody on the record is a good friend of mine, to varying degrees. Dave Rawlings has been a good friend of mine for a few years. I met Benmont Tench from Tom Petty and the Heartbreakers through Dave, and we've become pretty tight with him. I'll go to his house and jam sometimes with Dave. It's kind of a little community I've been lucky enough to tap into. And they were nice enough to play on my record.
Paste: Did your collaborators change the sound of the album much?


Boesel: I think without the parts Benmont played, those songs would sound considerably different. Dave Rawlings only plays on one song, but that song—"The Hand of God"—is one of my favorites. That song stands out from the rest of the record simply because of his guitar playing.
Paste: Your song "I Got the Reason #1" is the prequel to a song on Conor Oberst's Outer South—or the sequel? 


Boesel: Neither, really. The way that happened was that I wrote "I Got the Reason #1" a while before Conor wrote "I Got the Reason #2," which is on Outer South. He sort of stole my chorus, or at least parts of it, accidentally. When we realized, Conor said, "Why don't we name yours 'I Got the Reason #1' and mine 'I Got the Reason #2'?" He offered to change his song, but it was such a good song and my parts were so well-used that I didn't want him to change one thing. The full songs really aren't that close in reality.
Paste: So how does one "accidentally" steal a chorus?


Boesel: I think my song was in Conor's head! I think he heard it and kind of unconsciously used part of it.
Paste: It's nice of you not to get upset with him over that.


Boesel: I didn't get upset with him at all. You know, he's a dirty thief.
Paste: Could you see yourself working with him in the future, even though he is a dirty thief? 


Boesel: Oh yeah, some of my favorite people are dirty thieves, him included! I would love to work him Conor again. I don't know when we'll make another Mystic Valley Band record, but I've played a lot with him on Bright Eyes and his solo records, so I think I'll always play music with him.
Paste: Is there anything new on the horizon for Rilo Kiley?


Boesel: Right now, Jenny [Lewis] is working on a record with her boyfriend Johnathan Rice, and Rilo Kiley's working on a compilation of all the songs we never got to put on records over the years. A lot of them are some of my favorite Rilo Kiley songs, so that should actually be a pretty strong release. There's no plan to make a new record right now, since we're on a hiatus of sorts, but I hope we do at some point. It's been fun hanging out with everyone and putting the compilation together.
Paste: When are you expecting the compilation to come out?

Boesel: Hopefully this year. The sooner, the better. All the songs are recorded, so it's just a matter of choosing it and doing artwork.
Paste: Do you think you're going to focus on your solo career or return to drumming in the long run?


Boesel: I imagine it will be an alternating situation. I wouldn't want to give up drumming for other people to do my own stuff, but I also wouldn't want to not write my own songs. I'll drum when people want me to for them and do my own stuff in between.
Paste: One last thing—I noticed that you've Tweeted a bit about Taylor Swift. Are you a big fan of hers? 


Boesel: I am a fan of hers. I really like her because she writes her own songs and I think she's a very good songwriter. I saw an interview with her a little while back and she was talking about why she writes songs. She said she's always thinking about very specific people when she writes songs, which seems like a really cool outlook on songwriting. I share a lot of the same ideas she seems to have about songwriting. I just think she's a positive, talented young person.
Paste: Maybe you'll get to drum for her someday.


Boesel: I would love to! I put the word out on Twitter, put it out there in the universe.
Others Tagged With