Getting to Know... Title Tracks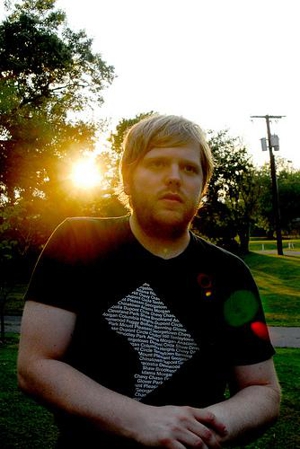 John Davis spent seven years drumming for Q and Not U, part of the last great boom of punk acts signed to Washington, D.C.'s Dischord Records around the turn of the new millennium. After the band burned out in 2005, Davis co-founded Georgie James, which drew from the summery sounds of '60s and '70s rock on songs that found him splitting vocal and songwriting duties with fellow D.C. musician Laura Burhenn. By the time Georgie James released its 2007 debut on Saddle Creek, however, the new group was already crumbling under the weight of personal tensions between Davis and Burhenn; the band broke up in 2008, and Davis' sore feelings from the split inspired his new band, Title Tracks.
Recorded mostly alone by Davis and featuring a pair of guest spots from Camera Obscura's Tracyanne Campbell, Title Tracks' debut album_ It Was Easy_ (out digitally now, and in stores Feb. 23) further explores the songwriter's fascination with '60s rock and '70s power-pop, in particular the hooky yet spiteful early output of Elvis Costello. (Burhenn's new outfit, The Mynabirds, will release its debut record in April.) Before kicking off a month-long Title Tracks tour with bassist Michael Cotterman and drummer Andrew Black, Davis spoke with Paste about his new band, Georgie James' dispiriting run and the current state of the D.C. music scene.
Paste: When did you begin working on these Title Tracks songs?
John Davis: I guess I had started them while my previous band Georgie James was still active, but at that point I knew with certainty that I wasn't going to be doing Georgie James much longer. I wasn't enjoying it anymore, and I really started writing these Title Tracks songs to deal with the unhappiness of that situation. It gave me something to look forward to, something to think about. I started writing these songs a couple months after that Georgie James album came out, and by the time we announced that Georgie James was going to break up in 2008, I'd written and demoed the album.
Paste: What was going so wrong in Georgie James?
Davis: It happened pretty suddenly. It was a lot of fun in the beginning, but ultimately our personalities didn't match very well. Laura and I didn't know each other before we started the band, which made it fun at first. In the beginning there's certain things you don't notice or that don't show, and you can get past that, but once you get started on the road, it's harder to ignore. The way we felt about all sorts of things were different. I'm used to that. I've been in bands for years, and there are always disagreements and differences, but in Georgie James we never had that closeness as friends that would cut that tension. It was definitely the worst year or two of my life for sure, so there was no temptation to stay in the band anymore. The situation was just making me sick. I couldn't wait to be done with it.
Paste: The irony of that is you came out of the situation with a very happy-sounding Title Tracks record.
Davis: Well, the music was written separately from the lyrics. I wouldn't have thought to describe it as a happy-sounding record, though I hear why it comes across that way. Most of the lyrics are really pretty dark, though. Not gothic dark, but emotionally dark. A lot of the songs are about anger and bitterness and confusion and all these things that I was feeling at the time. I mean, Georgie James had all these big expectations for what we wanted to do. We were going to tour all over the world and just play music as much as we could, but as I was starting to see there was no way the situation was not going to be tenable, that started to affect me. So the songs to me on the Title Tracks record, I don't think of them as too happy. A song like "Black Bubblegum" might sound bouncy, but lyrically that song is a diss. A lot of the songs are like that.
Paste: What was it that's drawn you more toward classic pop structures and sounds?
Davis: That's stuff I've always liked, but I just always wound up in bands where the more immediate influences of things we were listening to at the time. With my bands in high school and certainly the first couple years of Q and Not U, we were super into D.C. punk bands like Fugazi, Nation of Ulysses, Trenchmouth and some Jawbox. Those were the things we were listening to, but I've always liked music like Elvis Costello. I still have an Elvis Costello tape from Walden Books from when I was 12 years old. Me and my friends used to go into Walden Books and slide these cassettes up our sleeve, so I stole a best-of Elvis Costello cassette from Walden Books, and I listened to that all the time. I've always liked The Beatles and The Kinks, but punk just took much more a front seat for me through my teen years. I still primarily listen to older punk and power-pop music—that's really my favorite stuff. But I think I was in phase both with Georgie James and with the early part of the Title Tracks record where I was super into The Kinks, The Zombies, Big Star, and a lot of the canon-type stuff like that.
Paste: Is that it a challenge trying to take song structures that are so tried-and-true and making them sound new?
Davis: I guess I just hope that it does sound new. I'm not trying to recreate anything. I don't want it to sound too old. That was a big thing when we were making the record—"We do not want to make a retro album." There's so much to like about the production values of older music, and I think you can keep those in mind, but when you start to ape sounds, that becomes a problem. Brian Wilson and Phil Spector's production values are so abused by bands that are going for a retro feel. We wanted to make a record that was forward looking, so we just tried to keep it simple in terms of fidelity.
Paste: What is the D.C. scene like these days? Nationally, we don't hear about it as much as we used to.
Davis: That's something that's getting talked about a lot in D.C. now. In the second half of the decade it seemed like a pretty big drop-off in quality and national attention than it was in the '90s and the first half of the decade. The scene petered out with the breakup of bands like The Dismemberment Plan, Q and Not U, Black Eyes, Fugazi, El Guapo/Supersystem. There were just a lot of bands that stopped playing, and in their place was a lot of bands that didn't really tour or make an impression nationally. Even in D.C., there wasn't that much excitement about a lot of these bands. And in the meantime, a ton of people moved, people from my generation that I grew up with. This isn't a scientific figure, but I would have to imagine at least 50-75% of those people moved to New York or San Francisco or Los Angeles or Austin or Portland. That had a big impact on why music's declined slightly in D.C. in the second half of the decade. Even with Title Tracks, I've been struggling to find bands that we can align with and tour with and just been seen with. For me there isn't much a scene anymore, but I'm sure there are other bands that would disagree. It's been a weird time in D.C., but at least people are starting to talk about it now.
Paste: It seems like Dischord Records is less visible now, too. The label doesn't sign a lot of new bands or release many new albums.
Davis: The label has really wound down in a lot of ways. Dischord still exists, and it still has a lot of purpose, but they're more concerned with making sure they stay afloat and that business continues so they can keep their catalogue in print. They're not doing too much in the way of new bands, and I know that [Dischord co-owner] Ian [MacKaye] is not really excited in much of what's going on. With Dischord not being as active locally, that's been a factor in the scene being less prominent. The all-ages scene has diminished, too. Most of the music is in traditional clubs now, so that sense of community that comes with all-age shows is lost. And meanwhile, bands from D.C. aren't touring, so they aren't making a name for themselves. Very few people can name more than a handful of bands from D.C. now, so D.C. has really fallen off the map nationally. I think it's up to us, then, to get out there and start touring. I know I've been off the road for two years, but Title Tracks is going to get out there and start touring heavily. I still care about D.C., and we as a band care intensely about D.C.—the city, the people, the scene and the history. That's all really important to us.
Others Tagged With