Le Tigre Blogs About Christina Aguilera Collaboration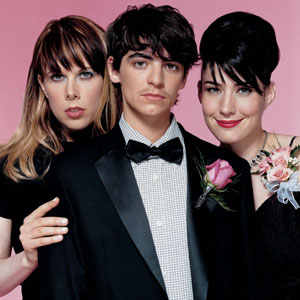 Christina Aguilera has come a long way from middle-school boom box jams ("Reflection," anyone?) and the "Dirrrty" music video. For her upcoming album, Bionic, tentatively scheduled for April, Aguilera has logged studio time with an interesting and talented batch of ladies—Goldfrapp, Ladytron, M.I.A., Santigold and Le Tigre.
Word of the collaborations surfaced last fall, and now Le Tigre has discussed their part via their website. Apparently, Xtina had a thing for the trio's song "Deceptacon," and asked them to work on tracks for her new album. Le Tigre member Johanna Fateman had plenty of nice things to say about working with Aguilera. "She is a technical virtuoso behind the mic, layering take after take of flawless vocals and coming up with variations, ad-libs, and harmonies on the fly," Fateman wrote.
And while Christina's positive-message songs ("Beautiful") go hand-in-hand with Le Tigre's feminist electro-rock, their sound is obviously a long way from Aguilera's glossy Top-40 sheen—not that there's anything wrong with that. "Together we tailored themes and specific references to her personality and image but found a ton of common ground in our aim to make upbeat danceable tracks celebrating female friendship, strength, and of course, PARTYING," Fateman explained. "And while the giant sound of her stacked vocals and the pop sheen she lends to the tracks might seem at odds with Le Tigre's aesthetic roots, it really works. The songs have a lot of elements we're known for, like a garage guitar sound, schoolyard chants, new wave-y synths, electro beats, and somehow it all sounds crazily right with Christina's unbelievable voice."
Got news tips for Paste? Email news@pastemagazine.com.
Others Tagged With