Mass Effect 2 Review (Xbox 360)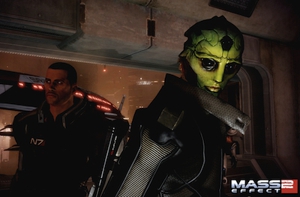 Developer: BioWare
Publisher: Electronic Arts
Platforms: Xbox 360, PC
Interstellar role-playing shooter weaves an epic sci-fi yarn
The first Mass Effect suffered from an identity problem. It couldn't decide if it was a role-playing game or a third-person shooter. Even worse, the box-art and promotional materials made you think some generic buzz-cut space marine was the main character. Everyone knows Commander Shepard is a tough-but-compassionate bottle redhead with a weakness for space liquor and alien women. She's also a beautiful lady.
Okay, that's only my Commander Shepard. Like fingerprints or DNA, everyone has their own Shepard. Mass Effect gave you total control over Shepard's appearance and great leeway with her biography. The story and its multitude of branching decisions were designed to create a kinship between you and your character, making you feel like you're actually having a conversation with the game and not just going through some preordained motions. That was the best part of an otherwise flawed experience.
Mass Effect 2
is more confident and assured. It's better than the original in almost every way, but that shouldn't be a surprise. Despite an engrossing story and a few indelible characters,
Mass Effect
was a technical mess. Beyond frequent graphical hiccups, the game struggled to unite
RPG
conventions with third-person action. It wasn't that good at either, with a clunky cover mechanic and an aggravating inventory system. It was hard to lose yourself in
Mass Effect
because you were constantly pausing the action to select a special power or make room for new items.
Mass Effect 2 is a major overhaul, paring back the original's already stripped-down RPG elements. Instead of loot drops, you research upgrades that apply to either your entire party or specific members. Skill trees have been truncated; instead of dozens of incremental steps dispersed between several abilities, each point leads to a large boost for one of a handful of skills. This doesn't water anything down, instead proving that massive inventories, rigidly segmented classes, and extensive skill trees aren't necessary to inhabit a role, which is the ostensible point of a role-playing game. There's enough character customization and progression to make your Shepard feel unique without getting bogged down in dated and unnecessary gameplay conventions, especially if you import your character from the first game.
It's also been greatly improved as a third-person shooter. The controls might not be as smooth or the maps as well designed as Uncharted 2, but Mass Effect 2 fixes many of the first game's issues. It's easier to aim and pop in and out of cover. You can also map three different biotic powers to a single button-press instead of one, so you don't have to pull up the game-pausing power select wheel nearly as often.
Most importantly, Mass Effect 2 is a better piece of interactive fiction, largely because it's less interested in plot than character. That's the biggest narrative change from Mass Effect, where the story was king, and character interaction wasn't always interesting or necessary. You could save the universe just fine in the first game without ever taking the time to speak with your crew; try that in Mass Effect 2 and nobody will live through the final battle.
The bulk of Mass Effect 2 involves compiling a crack squad to take down a race of aliens aiming to destroy the galaxy. You can recruit characters in any order you like, choosing missions from your ship's galaxy map. If you want your crew to be loyal you have to undertake special missions for each character. These loyalty missions work brilliantly; on the surface they're about earning your teammates' loyalty within the game, but in practice they make you loyal to your fictional squad. By the end of each mission I cared more about that character than I imagined possible, even the ones that were aesthetically or behaviorally off-putting at first.
Mass Effect 2 isn't content to merely put most videogames to shame. It challenges Hollywood itself, with better writing and acting than most recent sci-fi movies. It's almost as good as Uncharted 2 at merging games and cinema, ending with a final showdown that's a master-class in pacing and tension. And unlike most games or movies, you can immediately restart Mass Effect 2 and have a very different experience.
Watch the trailer for Mass Effect 2:
Others Tagged With