Original Bob Dylan Paintings for Sale in London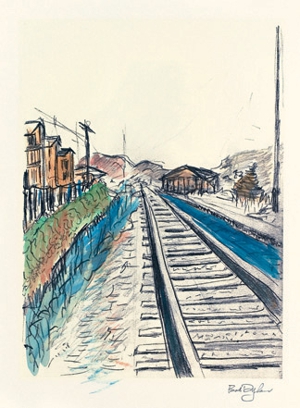 Painting may be a favorite hobby of the retired and the elderly, but it's not often that the doodlings of a senior citizen fetch $150,000 a pop. Then again, most of those paintings aren't by Bob Dylan.
The 68-year-old folk legend began the path to fine art stardom in 1994, when Random House published a book of his sketches titled Drawn Blank. Later, he was urged to turn his collection of sketches into paintings. The Drawn Blank series of paintings debuted in London in 2008. Last week, London's Halycon Gallery announced the return of the paintings in a show titled "Bob Dylan on Canvas," and this time around, the works are up for sale.
Before you start scrambling for the checkbook, check out the pricetags. The least expensive picture clocks in around $148,000. For the not-exorbitantly-wealthy fan, Dylan has prints for sale on his website, making Bob Dylan's vision of his two favorite subjects—women and train tracks— available to the masses. (Insert your own "When I Paint My Masterpiece" joke here.)

Got news tips for Paste? Email news@pastemagazine.com.
Others Tagged With