Start Press: Slamming Games For Being Derivative is Like So Totally Derivative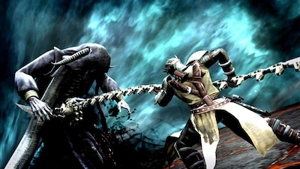 I just finished reading Gus Mastrapa's latest review over at Wired's Game|Life blog, which gleefully eviscerates Visceral Games' Dante's Inferno for being derivative of Sony's hack-and-slash masterpiece God of War. With the wordplay equivalent of a Danielson crane kick, Mastrapa points out that Inferno "commits the sin of game theft." The project "never floats a single original idea." It "worships at the altar of God of War." It "clings with near-religious adherence to its sacred text...The Book of Jaffe" (David Jaffe, of course, being God of War's lead designer). I'm not simply being glib when I tell you the phrase "God of War" is probably invoked more times in this review than it was in the packaging and instruction booklet for the actual game God of War.
I've admired and followed Mastrapa's videogame commentary for several years now. Like everything else he writes, the Inferno review is thought-provoking and playful and brilliantly descriptive, but its core gripe teeters atop an altogether flimsy premise. Tellingly, he spends an inordinate amount of time calling the game derivative, but he nevers pauses to explain why creative derivation—even the super-obvious, unambiguous sort—makes a game one nano-bit less enjoyable (assuming fun is one of your primary metrics for judging a game's quality).

Derivative. It's easily my least favorite adjective in games criticism. It's lazy and it's bogus. But the "give me a call when you quit being so derivative" kiss-off is hardly a cliché that's unique to games criticism. Since Bruce Springsteen first looked at a guitar, contrarian music journalists have accused him of being derivative of Bob Dylan. Britney Spears, derivative of Madonna. Obama during his 2008 presidential run, derivative of John F. Kennedy. Vampire Weekend's self-titled debut, derivative of Paul Simon's Graceland. Cheech, derivative of Chong. I could go on for days.
The bottom line is that no artist creates her work in a cultural vacuum. On some fundamental level, every piece of art that has ever existed was derivative from the very moment of its inception. Artists draw from their human experience, which we all share—happiness, sadness, confusion, lust, faith, doubt, pain. Artists draw from popular culture, which swirls madly about like the Oz tornado, promising to spirit us away to a world of Technicolor if we just leap inside. All artists work in mosaic, plucking vibrant shards from the same deep bucket.
Dante's Inferno ushers gamers on their first interactive tour of Alighieri's underworld and we complain about an over-familiar combat system. To flog yet another metaphor, the wheel's circular shape accomplishes the function of rolling quite nicely. We don't take digs at contemporary vehicle manufacturers for refusing to experiment with an octagonal or triangular variety? The idea is recycled because it's been proven effective.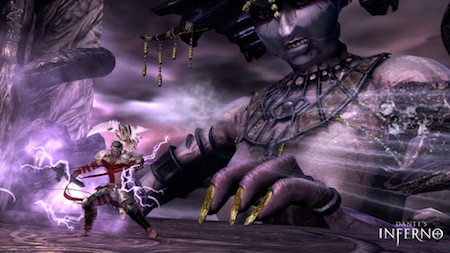 You could make a case that Pong never floated a single original idea, that it shamelessly cribbed its gameplay from another popular game—tennis—but no reasonable person would deem its arrival anything less than awe-inspiring. Calling a game "derivative" is just a snide way of saying that it has no reason for being, which actively discourages further inquiry. As critics, our primary job is to light a torch and plunge into the cave, describing in detail what we see, illuminating our path for others to follow as they undertake their own exploration. A "derivative" verdict merely boards the entrance shut and nails up a sign that reads, "Don't Bother."
We've all read journalists—and I'm not tacitly lumping in Mastrapa here—who are convinced that originality is the be-all-end-all. ('Jackson Pollock was a visionary. Get this, he flicked the paint randomly at the canvas instead of brushing it around! Such verve! Such pathos! Such non-derivativeness!') But why is novelty the holy grail? Perhaps we have some pesky psychological need to feel like we're innovating, advancing as a species, conquering new territory. Perhaps it creates a sense of challenge and purpose in a world that never quite gets around to explaining its reason for existing, if indeed it has one.
My purpose for writing this column doesn't stem from any overwhelming need I feel to rush to the defense of Dante's Inferno. I don't have a favorite uncle who happens to be a programmer at Visceral Games. I'm not receiving any under-the-table cash from Electronic Arts. While I personally find the game engrossing—with an emphasis on gross, thanks to concept artist Wayne Barlowe's deliciously twisted imagination—I realize it's not the second coming (go go gadget eschatological wordplay!).
My point is simply that Dante's Inferno is perfectly entitled to share DNA with God of War. And the New Testament book of Revelation. And the cover artwork of every last censored-on-arrival Cannibal Corpse album. And the searing cultural satire of a long-dead Italian poet. And David Fincher's Se7en. And a heaping bowl of spaghetti. And the groan-inducing poems I scribbled during seventh grade. And Dickens' Ghost of Christmas Future. And Auschwitz. And Darfur. And the homeless man that asked me for change on my way home last night. And the nothing I felt as I avoided eye contact, patted my pockets and feigned a sympathetic shrug. Dante's Inferno is derivative of every single one of these things, and that's precisely why it deserves a more intellectually generous critique.
Jason Killingsworth is Paste's games editor. He is based in Dublin, Ireland, and writes about music, film, tech and games for a variety of outlets. You can reach him online at jason [at] pastemagazine.com.
[UPDATE: Gus took a moment to clarify his position in "Thou Shalt Steal," the latest installment of his weekly column Pretension +1 over at Joystick Division. He makes it clear that he's perfectly fine with artistic borrowing—and even outright theft—as long as the resulting game adds some sort of fresh comment or spin on its source material. I felt like the visual and literary context of Dante's Inferno supplied that dimension, but obviously that's for each player to decide.]
Leave a comment to join the discussion: Do you think it's ok for a game to crib ideas? Under what circumstances?
Others Tagged With