2010 Oscar Predictions and Proclamations
Page 2 of 2
Achievement in Directing
The Nominees:
Avatar (James Cameron)
The Hurt Locker (Kathryn Bigelow)
Inglorious Basterds (Quentin Tarantino)
Precious (Lee Daniels)
Up in the Air (Jason Reitman)
Who Will Win: Kathryn Bigelow
Who Should Win: Kathryn Bigelow
This one is pretty much a given, considering that Bigelow already snagged the Director's Guild Award for The Hurt Locker. And there's every reason for her to be the first woman awarded Best Director: her expert work behind the camera made The Hurt Locker one of the most powerful and realistic war flicks ever put to celluloid.
Best Documentary Feature
The Nominees:
Burma VJ
The Cove
Food, Inc.
The Most Dangerous Man in America: Daniel Ellsberg and the Pentagon Papers
Which Way Home
Who Will Win: Food, Inc.
Who Should Win: The Cove
Food, Inc. was the clarion call for the green movement—a startling exposé on the dark side of the U.S.'s industrialized system of agriculture. As vital and needed as it was, The Cove trumps it in our mind for the sheer horror of its depiction of Japan's near-wanton slaughter of dolphins.
Best Motion Picture of the Year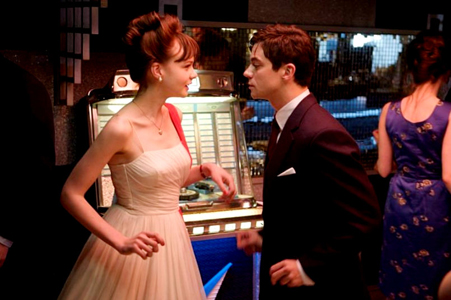 The Nominees:
Avatar
The Blind Side
District 9
An Education
The Hurt Locker
Inglorious Basterds
Precious
A Serious Man
Up
Up in the Air
Who Will Win: Avatar
Who Should Win: An Education
We're operating under the assumption that Kathryn Bigelow will snag the Best Director statuette, meaning that Best Picture will likely break in Avatar's favor. And Avatar is a more than worthy contender for the award. But for our money, Lone Scherfig's delightful coming-of-age drama packs a powerful punch, courtesy of veteran actor Peter Sarsgaard and a standout debut performance from Carey Mulligan. Which is precisely why it's our pick for the best film of 2009.
Others Tagged With