So, What Could You Buy With Avatar's Earnings?
Even though it took writer/director James Cameron a dozen years to see his career pièce de résistance through from start to finish, it only took a fraction of that time for the overwhelmingly popular film to break virtually every box office record—including Cameron's own previous mega-achievements. We've all seen the figures, but as Avatar's box-office earnings grow exponentially from week to week, the money starts to seem as unreal as the Na'vi's home planet of Pandora. So we decided to help you bring those numbers (accurate as of Feb. 23) back down to Earth.
Let's start from the beginning. On opening weekend (Dec. 18-20) Avatar brought in a whopping $77,025,481. With that kind of cash, you'd never have to feel guilty about your triple grande vanilla soy latte addiction. In fact, at $6.25 a pop you'd have enough money to buy your favorite fancy cup of joe for 12,324,077 consecutive mornings. Talk about a caffeine rush!
Or, if salty snacks are more your thing, consider this: With the money Avatar made during its opening weekend alone you could buy a bucket of hot, buttery movie theater popcorn every day for 33,764.5 years. (And, at about 1,100 calories and 60 grams of fat per bucket, you'd also be buying yourself an approximated 150 heart attacks.)
After such out of this world success in December, the bar was set pretty high for Cameron's 3D masterpiece, and it continued to bring in the big bucks. International audiences, it turns out, loved Avatar even more than we did here in the States, earning the film another $1,775,000,000. Here are some comparisons to keep those numbers from getting lost in translation.
Even though Titanic's Heart of the Ocean necklace doesn't actually exist, you could grace Kate Winslet's neck with 888 of the jewels that inspired the dazzling fictional heirloom: the Hope Diamond. If that's not enough sparkle for your wardrobe, in 2009, a Malaysian designer crafted a dress made almost exclusively of diamonds. At $30 million, it was dubbed the world's most expensive frock, but with an Avatar-sized budget, you could have a closet full of 59 of them.
But Avatar certainly didn't flop here at home. Americans may have cut lots of financial corners thanks to the rocky economy last year, but they were quick to fork out the $13+ to don 3D glasses and experience the 162 minutes of Avatar, so far raking in $690,499,726. Just think: If you had James Cameron's wallet, you could afford the $79-a-day ticket price to spend 23,946.5 blissful years at Disney World's Magic Kingdom, riding Splash Mountain with Mickey and the gang.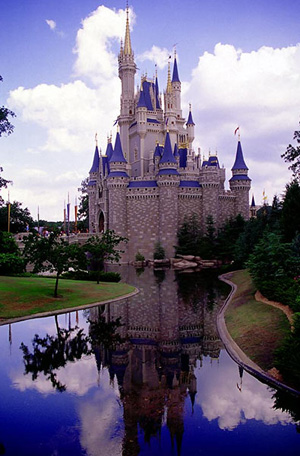 And for those who value work more than play, you could put 3,498 kids through four years of college at Grace's alma mater. (No small feat, considering Stanford's tuition comes out to $49,343 a year.)
For many moviegoers, a typical theater just wasn't going to cut it. To get the full, immersive effect of Pandora's glowing forests and floating islands, IMAX was the ideal option. It's no surprise, then, that the film broke records there, too. Reaching the $200 million mark among IMAX theater-goers, Avatar soundly nudged former frontrunner The Dark Knight out of its first place position in the uber-big screen category.
So what exactly does $200 million mean? For one, think the mind-blowing, super-synchronized opening ceremonies at the 2008 Beijing Olympics were impressive? Think of what they could've done with double the funds, not to mention double the drummers.
If you prefer soaring to new heights, you can buy a fleet of six NASA Enterprise spaceships to the tune of $28 million each to whisk you and your friends off to Pandora (wherever it may be). On your way, you'll soar past your own personal collection of 560,560 twinkling stars, each owned and named by you.
If you've been keeping track, all these numbers add up to a grand total of $2,465,499,726. We know, that's a lot of digits. In fact, the nine other Best Picture nominees would have to pull in $796,176,726 more than they've already made just to break even with Avatar's earnings. Avatar is even giving Oprah a run for her money. After all, it's taken her 56 years to earn her $2.7 billion, but after a measly 11 weeks in theaters, Avatar had pulled in nearly as much as the talk-show diva. Finally, speaking of billionaires, with a reported net worth of $40 billion, Bill Gates is safe from Avatar domination…for now. At its current rate, though, it would only take a little over three years for the 3-D blockbuster to out-earn the Microsoft magnate.
Others Tagged With