Daniel Johnston Biopic to Star Philip Seymour Hoffman?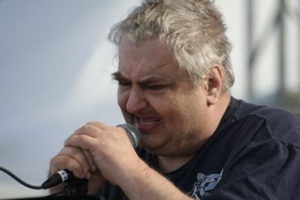 Father and son David and Jordan Miller are two busy filmmakers. The pair debuted their "self-inflicted comedy," My Suicide, at a German film festival last year, and have been traveling to various screenings and promoting the movie ever since. And in a recent interview with Pedestrian.tv, David Miller revealed the plans for the duo's next project: a biopic about the life of legendary singer/songwriter Daniel Johnston.
David will produce the film, and his My Suicide leading man Gabriel Sunday will pull double duty: playing young Johnston and going behind the camera to direct. "It's going to be an epic super hero story and it's going to be a narrative biopic, so it doesn't really cover any of the same stuff that the famous Devil And Daniel Johnston documentary that won Sundance in 2005 covers," Miller said of the film.
As far as the rest of the cast goes, no one has yet signed on to play the older Johnston, but there are a few options being considered. "We're either putting Gabriel in a fat suit or there's so many people that are reaching out that are huge Daniel Johnston fans," said Miller. "Philip Seymour Hoffman and John C. Reilly, for example. Johnny Depp's a big Daniel Johnston fan, though we'd like him to play the older brother."
Got news tips for Paste? Email news@pastemagazine.com.
Others Tagged With