Down Terrace Keeps it Gangster-ish at the New Directors/New Films Festival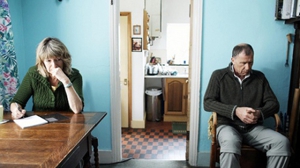 Page 1 of 3
Each spring, the Film Society of Lincoln Center hosts its New Directors/New Films festival in New York City, a survey of fresh work from an international array of filmmakers with, at most, a feature or two to their credit and (in a perfect world) an original sensibility or an inventive twist on the familiar. ND/NF, which runs through April 4, includes 25 major entries, including a cluster of socio-politically urgent films from Iran, a documentary about Warhol superstar Candy Darling, and an epic star turn by arthouse goddess Tilda Swinton.
Go figure that my favorite movie of the festival is Down Terrace, a kitchen-sink drama about a bunch of neurotic British gangsters sitting around and talking in a dyspeptic, paranoid, ineffably English manner about a very messy situation in which they find themselves. The cast is largely non-professional and, aside from a few notable instances, there's hardly anything gangsterish about anyone.
Down Terrace has been described as "The Sopranos meet Mike Leigh," which gets some of the vibe, although it has as much to do with, say, British sketch comedy and the workaday pub-crawler gravitas of a Ray Davies lyric. It follows a course of events in the lives of a crime family living in a Brighton council estate in the days following the release of its heir apparent Karl (Robin Hill) from prison. He's been ratted on, for some sort of crime, and this unforgivable act supplies an ostensible dramatic motor as his father Bill (Robert Hill), mother Maggie (Julia Deakin), and various associates experience a total meltdown. It is a sublimely understated meltdown, by Godfather standards, and rather earnestly philosophical. And, well, not so much to do with illegal activities than with the not uncommon tensions and humiliations that occur among stressed-out families… even those that don't resort to bumping people off.
Guy Ritchie would never do it like this.
Others Tagged With