Frightened Rabbit: The Winter of Mixed Drinks
[Fat Cat]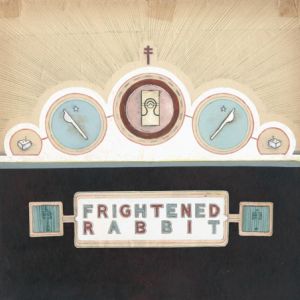 Scottsmen stretch their legs on ambitious third album
"What's the blues when you've got the greys?" asked Scott Hutchison on Frightened Rabbit's charming 2006 debut, Sing the Greys. The Scottish band—formed around Scott and his brother Grant—put a scrappy spin on apathy and cynicism. They were raucous, but with great economy: Scott's fuzzy guitar jittered and popped like oil in a pan as Grant bashed out frantic rhythms, hammering beats like nails into the music's woody grain. A great care for craft lurked behind the splintered finish of the songs, and clear, infectious melodies rang out amid the washes of distortion. Scott's voice—a creaky burr—whip-cracked over the galloping riffs as if he were a drunken charioteer. They claimed they didn't care, but they sure sounded like they did.
What does a frightened rabbit do? It runs. On Sing the Greys, the band already seemed to be lunging ahead of itself, always in a hurry to get to the next song, the next idea. So when superb sophomore set The Midnight Organ Fight appeared a year after Fat Cat reissued Greys, it was no surprise that they'd begun to take themselves more seriously. On The Winter of Mixed Drinks, the new release, the band's ambition has increased apace. Frightened Rabbit is still good at juxtaposing minimal passages with rousing dynamic swoops. But more than ever before, their songs are sandbagged with sighing keyboards, screaming layers of melodious distortion, nested rhythms, choral harmonies—all the doodads that rock bands are liable to employ circa album number three. These more laborious arrangements occasion stirring moments on the epic scale of Coldplay or U2; this is burnished, stadium-sized, cloud-cover rock, so much so that the vocal melodies—what you'll actually carry away from the towering arrangements—sometimes feel beset, almost overwhelmed.
The change is more one of scale than style. Hutchison's earthy, inviting voice cuts through the vast instrumentation like a ray of sunlight. This is a different sort of intimacy: The Winter of Mixed Drinks is less of a breakup record than a post-breakup record, the more pathetic feelings having hardened into self-reliant moxie. "This is a story and you're not in it," Hutchison snipes on "Nothing Like You"—which is to say he's all alone. The music dwarfs his human-sized voice, emphasizing his smallness and solitude. Hutchison offers the usual wallowing introspection and off-kilter epiphanies ("She was not the cure for cancer," he suddenly gleans midway through the album), but from a bird's-eye view. On lead single "Swim Until You Can't See Land," which includes a string arrangement by labelmate Hauschka, the singer is a tiny, bobbing speck, way out past the waves, nothing but a sea of chiming guitars and swooning strings on all sides. This is the sound of a band disappearing into itself.
Frightened Rabbit wrings a winning simplicity from all this august isolation. A cardiac pulse animates many of the songs, a mightily thwacking unison at the core of all the kaleidoscopic embellishment. Sprightly rhythms still canter through the drafty corridors. "Things" morphs a striving electric-guitar riff into airborne rills of melody, like a thunderhead gathering and breaking. The noise-drenched "Skip The Youth" and the wriggly "The Loneliness and the Scream" develop as guitars and drums clash rigidly alongside some repetitive sound, everything gradually warping into a sweeping melody. The songs move through passages of dense occlusion and beaming clarity. A few airier moments leaven all the starchy rock. "The Wrestle" gets by on little more than a melodious bass line and some ticking guitar. And "Man/Bag Of Sand" sounds like old Frightened Rabbit playing new Frightened Rabbit, with its impassioned, raw-boned acoustic reprisal of "Swim Until You Can't See Land."
Loneliness does strange things to a person; you argue with yourself via proxies. On The Winter of Mixed Drinks, Hutchison veers between teenaged dismissals of "all this shit" and wrestling with the Holy Ghost. "I'm not miserable," he sings over an optimistic guitar lick on "Not Miserable," and he sounds as if he's slightly surprised, as if it's quite suddenly obvious. As the guitars of the next song, "Living in Colour," twist into the air, it totally is. No one here has the greys, not anymore.
Others Tagged With