High Definition: Wild Kingdom and Discovery's Life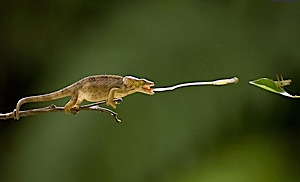 I grew up watching Mutual of Omaha's Wild Kingdom, so it was a while before Nebraska's biggest city lost its exotic luster. I assumed Omaha was one of those untamed locales where Marlin Perkins revealed the mysteries of animals, just like the "Trails of Saguaro Springs", the "Wild Shores of Patagonia," the "Land of the Dingo." I watched in awe at a world beyond my suburban home and developed an appreciation for these remote habitats untouched by man—save for brave explores like Perkins and his cohorts. They would wrestle pythons and alligators, throw sticks at charging elephants, and—most ridiculously—bring down an elk in the snow by jumping on it from a helicopter.
I decided early on that I would grow up to be a biologist like Perkins, especially when he donned his SCUBA tank and dove with the whales. Every show revealed something new. Along with the baseball cards I traded with friends, I started collecting animal cards that would arrive periodically in the mail with genus, species and native range in place of batting average, home runs and RBIs. Perkins was always searching for something new. When I finally made it to the African plains myself, I was stunned by how the animals were everywhere. We didn't have to track down the giraffes; they were just over there near the zebras, wildebeests and ostriches. Our safari quickly turned into a search for whatever we hadn't yet seen, just like ol' Perkins. And when the hyenas—muscular creatures that looked more like feral Rottweilers than the scrappy scavengers I'd remembered from TV—finished off a wounded zebra, I felt like Perkins should have been narrating.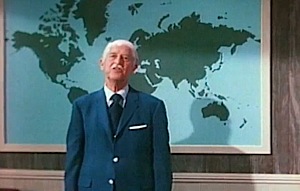 Now there's a whole cable channel devoted to the kind of natural storytelling Wild Kingdom pioneered. We've had a Crocodile Hunter, rest his soul, and a Man who routinely takes on Wild. We've had BBC's breathtaking Planet Earth and meerkats with their own reality show. It's hard to come up with something new.
But Discovery's new series Life, narrated by Oprah Winfrey, tries hard to do just that. From the startling minutia of a fly who, just after birth, climbs to the top of a tree and inflates his eye tubes until they literally bug out to the komodo dragon's dramatic three-week-long hunt of a water buffalo, they succeed. The series premiere this week included a behind-the-scenes look at how the camera crew stalked the 10 dragons who stalked a single buffalo for nearly a month. The stunning technical feats of the cameras take you closer than Perkins ever could, despite his own desire to be smack in the middle of the action. After just one episode, "Challenges of Life," the series has me convinced that there will always be more variety and wonder in the natural world than I've yet imagined.
And Wild Kingdom is making its own comeback on Animal Planet on April 4. Beginning with "Bearwalker of the North Woods," each episode isn't just about nature; it's about our human desire to engage with it. The heroes of the new show, like the old, are the biologists and photographers who've become so intimate with their animal subjects that they walk among bears and lions and swim with whale sharks. It's the profession I gave up to become a writer, but every time I tune into their adventures, I'm seven years old again, dreaming of the far-off land of Omaha and all the wonders of the animal kingdom.
Others Tagged With