High Definition: When Every Channel is the Travel Channel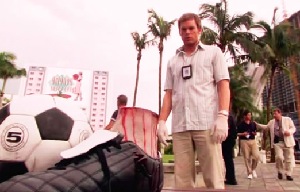 Last week, I visited Miami before the Cayamo cruise with Emmylou Harris and Steve Earle. I haven't spent much time there, but as we drove around the city and walked the streets of South Beach, I couldn't help but think of Dexter, Showtime's eponymous serial killer, and his slow steps towards redemption. Setting is key to good television, and the best series make you feel like you're becoming as attached to the place as to the characters.
Other locales have become inextricably linked with TV shows filmed there. Growing up, my Hawaii was filled with the intrigue of Magnum P.I. And though I never left the bar, Cheers gave me a glimpse of Boston through its regulars. The Dukes of Hazzard took me outside the suburbs of Atlanta to see a rural Georgia that was as foreign to me as the mountains of Mozambique.
Later, I got to know Washington D.C. through The West Wing, Chicago through ER, Jersey through The Sopranos and, especially, Baltimore through The Wire. Plus I feel like I know all the residents of Springfield—I'm just not sure which one.
Of course, many of these places have their varying degrees of fiction, distorted views of the show's creators, sound stages in Vancouver and Hollywood sometimes standing in for the real thing. But the best of them deliver on the promise of place with an authentic touch. I recently met a guy who lived in Baltimore around the Turn of the Millennium. He told me, "I didn't have to watch The Wire. I lived in it."
Still, there's no substitute for the real thing. Fifteen hours in Miami gave me my own perspective on the city, and we packed every minute with late-night sushi, a walk on the beach, morning empanadas and endless gazing at the art-deco architecture. Turns out, Miami without the serial killers was every bit as fun.
Josh Jackson is co-founder and editor-in-chief of Paste magazine.
Others Tagged With