Jesse Malin Talks New Album, J.D. Salinger Soundtrack, Ryan Adams Side Project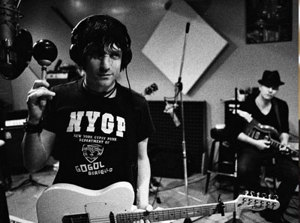 Jesse Malin's been playing music onstage for just under 30 years. He's 42.
From Heart Attack, his '80s hardcore punk band, to his glam-punk act, D Generation, to his current incarnation as a rough, whiskey-bar-slaying solo artist, Malin should probably be in the autumn of his musical life. But instead, he just recorded the best album of his career. He also recorded a new, unreleased album with Ryan Adams, wrote music for an upcoming movie about J.D. Salinger and is about to launch a tour with Gogol Bordello. And to think he almost threw it all away—to become a stand-up comic. "[Around 2008] things got really weird," Malin tells Paste. "I wasn't sure if I was meant to continue, or if I had to try something else. I've been doing this since I was a little teenager. I thought maybe it was time to shake it up a bit."
Malin began to think about other feasible career options. "I would go onstage after a few tequilas and tell these stories and jokes. I thought maybe I'd give myself a shot at standing there without the guitar," he says.
But like so many troubled minds, Malin found solace in J.D. Salinger's Holden Caulfield. While touring with Blues Traveler through Los Angeles in late 2007, screenwriter Shane Salerno approached Malin to contribute music to his then-unmade Salinger documentary. Though Salerno's credentials stacked up—he wrote Armaggedon and 2000's Shaft—Malin was skeptical. That is, until he returned home to New York to find "biographies, Xeroxes, printouts and books" about Salinger all waiting for him—gifts from the adoring screenwriter. "Suddenly I found myself rereading Catcher in the Rye. Salinger was one of the original punk-rock writers," Malin says. "Fuck Clockwork Orange or Taxi Driver; Holden Caulfield was an outsider all the way."
Although the five songs he wrote for Salerno's Salinger have yet to be officially announced on the soundtrack, the inspiration set Malin back on track—less than a year later, he'd written the tracks for his next album. Malin's first record with his new band The St. Marks Social, Love it to Life, out April 27 on SideOneDummy Records, is all ragged, guitar-driven sing-alongs a'la The Hold Steady or Ryan Adams' Rock N Roll, with help from The Gaslight Anthem's Brian Fallon, Adams and Mandy Moore. Adams has "been one of my best friends for years," Malin says, and the heartbreaker's wife, Moore, "sang some nice, sweet harmonies on a few songs."
Love it to Life, it turns out, isn't the only album featuring Adams and Malin recorded last year. In 2003, the two recorded a hardcore punk record, We Are Fuck You, under the moniker The Finger. In September 2009, they reunited with former Finger Johnny T. Yerington to record another album, this time as ATM (Adams, Tastemaker and Malin). "It sounds like The Finger developed into Hüsker Dü or Wire. It's like a post-punk Finger," Malin says. "There's still some hardcore in there, but it's a little more melodic."
Just don't expect to hear ATM at your local punk dive. Or possibly anywhere ever. "Who knows if it'll ever come out. We just do that for fun," Malin says. "Some people get together and play golf. We don't play golf."
Got news tips for Paste? Email news@pastemagazine.com.
Others Tagged With