Jimmy McDonough: Tammy Wynette: Tragic Country Queen
[Viking]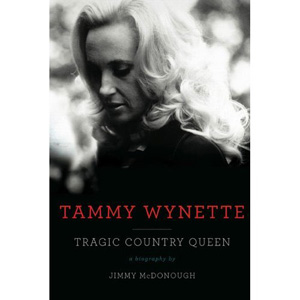 Needs less trees, more forest
For an exhaustive work that obviously required much passion to assemble, Tragic Country Queen is a pretty uninspiring read that lacks immediacy and uses heavy quote stacking as a crutch.
Oddly, the lead chapter is the book's weakest, acting as a stumbling block instead of a tractor beam. In this section, it's as if author Jimmy McDonough employed William S. Burroughs' cut-up technique, writing the story and then randomly reassembling it—which works great for a smack-fueled mindbender like Naked Lunch, but not so much for a country-music bio.
After the first chapter, the book levels out, shifting to a more appropriate chronological approach, and McDonough does an excellent job uncovering little truths and calling Wynette out on the many self-serving fictions of her own autobiography. But too often Tragic Country Queen bogs down in minutiae, blurring our view of Wynette and making it difficult to get at the larger truth of who this surprisingly complex Nashville icon really was.
Others Tagged With