Listen Up: Jesus Does Acid, God Finds Rock 'n' Roll (Or, the Unlikely Convergence of John Prine and Jeffrey Lewis)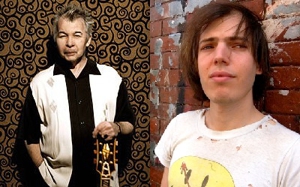 Funny things happen when you drive 120 miles on a Friday night with a sinus infection that isn't quite fully under control. The highway kind of warps and buckles out in front of you; the sun setting over the Georgia pine trees makes your eyes ache and bulge. And your brain goes to all these weird places—like, you play John Prine in the car, because half the reason you're driving at all is to go visit your parents and see him play in your hometown the next night, and then you start deciding he has a lot in common with Jeffrey Lewis. You wind up with a big list of all the unlikely similarities in your head but then you forget them all once you get home and drag your laundry inside and cry like a stupid baby at what a lame week in your ostensibly adult life you've just had.
But then, then next night, when you're downtown at the John Prine show with your parents and everyone—and feeling much better, thanks—you start thinking about it again, and you decide maybe there's something there. It's not that their biographical details line up precisely; some do, some don't. John Prine started making albums in the 1970s and had made three or four before Jeffrey Lewis was even born. Prine got his start singing in a club in Chicago along with a bunch of musician friends like Steve Goodman and Bonnie Koloc who, all together, were heralded as a kind of local folk revival; Lewis got his start singing in a club in New York City along with a bunch of musician friends like Kimya Dawson and Adam Green and Regina Spektor, who helped start up what eventually got called anti-folk. Prine's had a bit of chart success in the U.S., but Lewis sure hasn't.
Both tend to deliver their songs in this not-quite-sung, not-quite-spoken way, especially the verses—and some of their best choruses have all the indelible catchiness of songs much poppier than what the musicians are known for. This is true for more of Lewis' songs than Prine's, which more frequently edge into straight-ahead country balladry terrain, but in many songs there's a distinct area of overlap between the two when it comes to not just what they sing about but how.

It's nothing special to sing about childhood and growing up and growing old and fearing all that, but Lewis and Prine handle it in much the same way—with thankfulness and grace and curiosity, but also a certain aghastness at what their lives have become. They're both very aware of their own mortality, both very funny and very wryly morbid. They both have a great handle on the absurd, too, which comes out in their narratives and also their song titles (and sometimes both at once)—"Come Back To Us Barbara Lewis Hare-Krishna Beauregard" (Prine), "The Last Time I Did Acid I Went Insane" (Lewis), "Your Flag Decal Won't Get You Into Heaven Anymore" (Prine—written in 1971, thanks very much), "You Don't Have To Be A Scientist To Do Experiments On Your Own Heart" (Lewis). Lewis has more than a few songs about doing acid, or not doing acid, but so does Prine—namely, "Jesus: The Missing Years," in which a certain lord and savior trips out and discovers the Beatles. (And then Lewis has a song covers a Daniel Johnston song called "The Adventures Of God As A Young Boy," in which the soon-to-be-old man upstairs himself discovers rock 'n' roll via time-traveling MTV fans of the future.)

It might explain a lot if Jeffrey Lewis was actually just a big John Prine fan (Prine, after all, squared away his half of this odd equation years and years ago) but I can't find anything that suggests he is or isn't. And anyway, the two are alike in ways and to degrees that don't quite feel copyable; I can't see how a person could set out to make music like Prine and end up like Lewis. It seems so much more likely that they're cut from the same cloth, just stitched into very different quilts—one's just a little weirder than maybe everyone thinks, one's a little more traditional, and they both meet up someplace in the middle. And even if that's just someone's stuffy head meandering up I-75 one feverish Friday night—well, that's still a place like any other.
Rachael Maddux is Paste's associate editor. Her column appears at PasteMagazine.com every Monday.
Others Tagged With