Salute Your Shorts: Noah Baumbach's "Conrad & Butler Take a Vacation"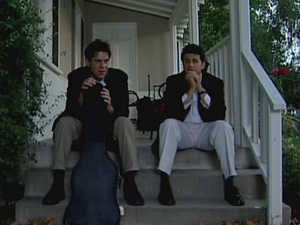 Salute Your Shorts is a weekly column that looks at short films, music videos, commercials or any other short form visual media that generally gets ignored.
After graduating in 1991, Noah Baumbach wrote a screenplay for the movie Fifth Year and spent the next several years working to get it funded. Finally, in 1995, he got the chance to make his film, and Kicking and Screaming was the result, a cult picture about post-college malaise in a style that would be familiar to any fans of Whit Stillman but still unique enough to herald a new talent. Baumbach didn't have nearly the same trouble financing his next film, the underrated Mr. Jealousy, and he seemed poised to take over Hollywood with the rest of the great independent filmmakers coming out in the late '90s.
Unfortunately, that didn't happen. Despite Mr. Jealousy's improvement over the already great Kicking and Screaming, it was sent to die, and the film experiment he shot three weeks after Mr. Jealousy and failed to finish was cut and released without Baumbach's permission or involvement as Highball. Eight years passed before another Baumbach picture was released, with much of the time in between once again being spent searching for funding.
Nobody saw much of Baumbach's works during the intervening years aside from a couple of New Yorker pieces, but that didn't mean he kept idle. As Highball proved, he was interested in looking in new, improvisational directions for his films, and though this isn't at all the style his features eventually took up, Highball's disaster alone didn't prove to him that it was a bad idea. Talking with his friends Carlos Jacott and John Lehr, who both were in all three of Baumbach's films up to that point, the trio devised a way of resurrecting the comedy duos of old, and shortly afterward, Conrad and Butler were born.
Baumbach wrote a note about the film when it was finally released to the public on the Criterion DVD for Kicking and Screaming: "Conrad and Butler were originally designed to be a comedy team like Laurel and Hardy or Abbott and Costello. Unlike those classic duos, however, we could never agree on who was the straight man and who was the idiot. Carlos, John and I planned for a Conrad and Butler multimedia extravaganza. They were going to star in their own half-hour TV series—there was a movie, a record, a tour. We imagined the names entering the public consciousness: 'You're being so Conrad…' or 'I just had a Butler moment.' But all we got around to was shooting this improvised short film on digital video …"
The story for the short, as with that for most comic duos, is extremely minimal. Conrad buys himself and Butler plane tickets to his grandparents' vacant apartment, the only problem being that their tickets back are the next day, giving the pair the better part of an evening to vacation on. Due to a series of botched plans, they end up spending the entire evening drinking alone before passing out moments before leaving for a night out. Then, as a denouement, when they finally return home, they manage to lock themselves out of their house.
But while the plot for the film is virtually nonexistent, its characters appear fully formed. Don't let Baumbach's introduction fool you, Conrad is definitely the comedic character while Butler is the straight man; it's just that he's a largely abusive and annoyed straight man who's very tired of dealing with Conrad's ridiculousness. Conrad's obsessions with his ex-wife, his grandparents he still affectionately calls Nana and Bebo, and his desire to get drunk and show up at an underage juice bar make the short what it is. Lehr's Butler plays right off of this and the short's gradually mounting craziness goes from tepidly interesting to a whirlwind of insanity.
If this sounds like nothing Baumbach's done before or since, it's because it is. It's also not much like anything I've seen anyone else do either. Most improvisation tends to be a lot more plot-based, as with the riffing of a Judd Apatow film, or just unfocused goofiness that can't sustain itself, as with every college improv troupe performance since the dawn of time. Lehr, Jacott and Baumbach were only focused on perfectly portraying these two characters and the way they drive each other crazy. It's a different way of working but combined with a tight editing job manages to succeed.
"Conrad and Butler" is not deeply moving or an emotional rollercoaster like other Baumbach films. What it is, though, is profoundly funny and infinitely rewatchable, one of the most purely enjoyable things I've ever seen. Unlike Highball, it was an experiment that succeeded wonderfully, and I'm sure a lot of people who bought the Kicking and Screaming DVD were surprised to find that they were checking out "Conrad and Butler" more often than the feature. After all, Kicking and Screaming is ultimately just learning to find yourself during post-college malaise; "Conrad and Butler" features the greatest comedic duo of the 21st century.
Others Tagged With