Sofia Coppola to Adapt Phoenix's "Love Like a Sunset" Into...Something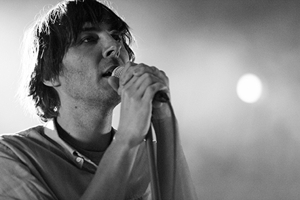 [Photo by Sean Edgar]
Phoenix frontman Thomas Mars and Paste's 45th Best Living Director Sofia Coppola are making all kinds of things together. In addition to partnering on an upcoming film project, with Mars set to write the score for Coppola's Somewhere, they've got a baby on the way and another already at home. According to the New York Times (via The Playlist), Coppola is also adapting the band's song "Love Like A Sunset" into a movie.
Whether the movie in question will be a music video, a short film or a feature is unknown, though the description of the project as a "movie" hints at the latter.
"Love Like a Sunset" is a sprawling two-part piece from the French band's latest, Wolfgang Amadeus Phoenix, for which the band won the Best Alternative Album Grammy. Mostly instrumental, the song's brief lyrics consist of six lines about beginnings, endings and illusions. "Of course [lyrics are important to me]," Mars told the Times, "but the more abstract they are, or the more mysterious they are, the more intrigued I am."
Got news tips for Paste? Email news@pastemagazine.com.
Others Tagged With