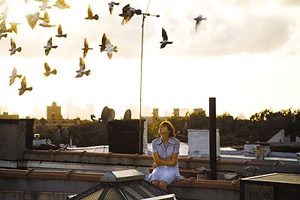 Release Date: March 12
Director/Writer: Bradley Rust Gray
Starring: Zoe Kazan, Mark Rendall
Cinematographer: Eric Lin
Studio/Run Time: Oscilloscope, 79 mins.
Bradley Rust Gray's low-key second film, about an epileptic college student on break in New York City, offers no grand moments or spectacular explosions. Instead, The Exploding Girl is an ambitiously life-size coming-of-age story, striving for a moody, post-adolescent realism constructed of small events and improvised chatter—and it's this everyday scope that makes the movie both charming and frustrating.
Zoe Kazan, recently of It's Complicated and The Private Lives of Pippa Lee, plays title character Ivy, whose retro sundresses and gangly grace make her onscreen presence magnetic. Ivy has come home to New York with her friend Al (Mark Rendall, a ringer for Jeff Buckley). They hang out, both together and alone, a lot—at parties, on street corners, on rooftops, in doctor's offices, in parks, at pizzerias—and he has a crush that's obvious to everyone but Ivy.
Very little else happens in this movie, which is intentional—this is mumblecore, after all—and there are only crumbs of plot. The biggest advancement stems from a series of phone calls with Ivy's college boyfriend, who grows increasingly distant with each pained conversation. Again, she's is oblivious to the facts that are obvious to everyone else: her boyfriend is gradually detaching, and the start of the relationship for her was only a casual hook-up for him. We never see him, which only emphasizes the distance between them, and these halting conversations, though painful to watch, further endear Ivy to the audience.
At times this lack of activity threatens to stifle The Exploding Girl and render its characters inert, and Gray's direction—which strives for handheld verité—too often comes across as stilted. The camera can be an eccentric, annoying presence, as cinematographer Eric Lin relies heavily on long, poorly framed shots that scream realism yet are actually as mannered as any hyper-edited action flick.
And yet, the last scene is such a beautiful denouement to this non-story, so patient and vivid and sweet, that it transforms everything that comes before it. This is exactly what Gray and his crew are striving for: a subtle, poetic shot that renders the mundane into something truly monumental. It's not explosive, and that's the whole point.
Watch the trailer for The Exploding Girl:
Others Tagged With