The Tallest Man on Earth Talks New Album, Shows Love for Fellow Songwriters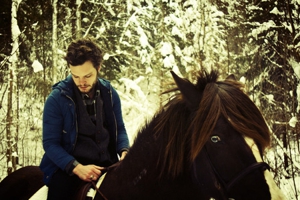 [Photos by Chris La Putt]
On 2008's Shallow Grave, where his fingers fervently navigated guitar strings and his high croak begged to disappear into an imaginary wilderness, Kristian Matsson introduced himself as The Tallest Man on Earth, despite his meek sound. And thanks to a rising number of comparisons to Bob Dylan, the Swedish singer-songwriter could never fully escape into oblivion.
"I don't know how I feel about that," Matsson tells Paste via e-mail. "I guess I don't want to waste time thinking about it. I just want to sing these songs."
For the sake of Matsson's second album, perhaps all this attention was for the best. Coming April 13 via Dead Oceans, The Wild Hunt follows more than a year of touring with John Vanderslice and Bon Iver. With shows like that, of course, comes adjusting to the spotlight. "Ever since touring with Bon Iver in December 2008, this whole music-playing business has felt like a much more warm and fun place to be in," Matsson says. "Justin Vernon is a great inspiration to me, both in how you express music and how you deal with life."
Matsson began writing and performing songs from The Wild Hunt in the months following that tour, including the single he released last week, the galloping "King of Spain." Dylan and Delta blues legends Robert Johnson, Bukka White and Son House remain mainstay influences, and the scenery back home—decorated with hills, valleys and a spruce forest—never ceases to inspire him. "It changes drastically between seasons up here, and it always reminds you of its presence," Matsson says. "It steps in and breaks the patterns when you're obsessing over some everyday problem."
But as piano chords seep into each other in conclusion "Kids on the Run," the song recalls a different sort of setting. "Piano was the only option because it was so obvious," Matsson says. "It came from being 13 years old, stabbed in the heart by some '90s power ballad, the last dance when someone else danced with the girl you were miserably in love with."
Now that The Wild Hunt is complete, Matsson is thinking less of grade school dances and more of his future. After performing with Vanderslice again last month, Matsson is now preparing to tour in April with labelmate NURSES—yet another reason to venture beyond his comfort zone, mainstay influences and native landscapes, and to be more like Bon Iver's Vernon. "Here, where these guys [are] making their insanely powerful music on stage, and me—side stage, catching myself with the biggest smile ever, feeling this unreal happiness and how the world just became something else, bigger—and how it followed with them being the sweetest guys ever, makes it easier to go on with this, knowing they're also out there," Matsson says.
Got news tips for Paste? Email news@pastemagazine.com.
Others Tagged With