2 Faust 2 Furious: Script Excerpts From Michael Bay's $600 Million Adaptation of Dr. Faustus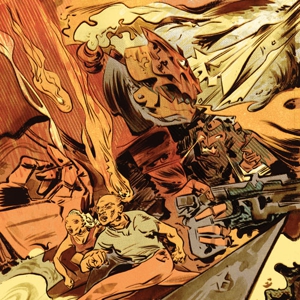 Pg. 1 EXT. PENTAGON—Day. CUE: Martial drums. Birds (CGI) take wing from underneath Old Glory (CGI) flapping in the sunlight. This is freedom. This is America.
CUT TO: INT. PENTAGON—E-RING CONFERENCE ROOM. Army Chief of Staff FAUST sits at a table, flanked by generals. Young and handsome, he is the no-nonsense military type.
FAUST: What's the situation here, boys?
GENERAL: It's bad, sir. Real bad.
FAUST: North Korea again? Iran?
GENERAL: Worse. Mephisto is back.
CUT TO: EXT. SKIES ABOVE PAKISTAN—Day. The sleek, sexy F-22 Raptor gleams in the sun as it patrols Central Asia. Another shot of the F-22. Another. God, that is an arousing piece of military hardware.
PILOT: All clear.
Suddenly, the demon MEPHISTO lands on the nose of the jet, his black trenchcoat billowing as he punches through the cockpit. MEPHISTO grabs the PILOT and pulls him face-to-face.
MEPHISTO: Time to raise some hell.
CUE: Linkin Park song. MEPHISTO bellows a sinister laugh, flying away as the jet explodes.
CUT TO: TITLE SEQUENCE.
—
Pg. 29 INT. WHITE HOUSE SITUATION ROOM. FAUST sits across from PRESIDENT CHARLES. There's a strategic map (CGI) on a big screen, like that movie WarGames. Shit. Is. Going. Down.
FAUST: You've gotta trust me, sir. I fought Mephisto before, I know how he operates.
CHARLES: I'm afraid not, Faust. The UN Security Council just voted. We're going to negotiate.
FAUST: You're making a deal with the devil! [Looks directly at camera] I know a thing or two about that.
CHARLES: The world needs peacemakers now, not warriors. Your time is over.
SULTRY VOICE: I've got a solution.
The clack of stilettos is heard as the camera cuts to reveal the HOTTEST WOMAN EVER. Slow pan down from her low-cut blouse to her legs, then back. Then down and back again. Camera remains fixed on her chest for the rest of the scene.
CHARLES: Who the hell are you?
H.W.E.: Helena Troi, Mr. President. I'm a researcher at Livermore Labs. I was head of Project Mephisto.
FAUST: The bioengineering genius that created Mephisto at age 17, and nearly destroyed the world.
TROI: Now, gentlemen, if you'll just direct your eyes to these…
CUE: Linkin Park song.
—
Pg. 83 EXT. Vatican City—Night. FAUST and MEPHISTO stand shirtless on the dome of St. Peter's Basilica. THE POPE is tied up behind MEPHISTO. Explosions and lightning rock the cityscape every few seconds.
MEPHISTO: You've defeated my seven deadly lieutenants. I could use power like yours. Join me… father. This is my world now.
FAUST: Not on my watch! You're no son of mine! I'm going to send you back to hell! Where you belong!
MEPHISTO: So be it!
FAUST's giant anthropomorphic robot VALDES rises from the ruins of the city. MEPHISTO's warbot CORNELIUS rises in tandem. They jump into the cockpits. The robots brandish fearsome arsenals of lasers, missiles, cannons, machineguns, railguns, nailguns and glue guns.
BOTH: Id Extender, activate!
Explosions. So many explosions.
CUE: Linkin Park song.
Others Tagged With