Wes Craven, Kevin Williamson, Original Cast in for Scream 4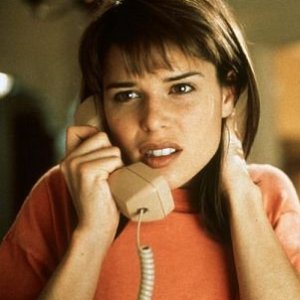 At least it isn't a remake.
That's about the best outlook we can muster upon news that Scream 4 has received a final greenlight and release date with Wes Craven as director, Kevin Williamson as writer, and stars Neve Campbell, Courtney Cox and David Arquette all back in the fold.
The project has been rumored since Sidney and gang last showed up for Scream 3, which, despite mixed reviews and a delayed release, still managed receipts in line with its predecessors. All three movies cleared $150 million worldwide, a very solid number for a horror movie in general and the slasher genre in particular.
That the original players are involved in the new movie is certainly unusual, not least of all because of the decade-plus window between the third film and this one. The stars of the old movies will play seniors to a new cast of younger actors, which would be depressing if it wasn't certain that the new movie will poke ample fun at that fact itself.
Still, the film will face knives of a different sort when it opens in April 2011. We'll let the venerable Salon critic Andrew O'Hehir take it from here, with this nugget from Feb. 4, 2000, after his positive review of Scream 3: "Let me be the first to offer Craven a deal: If he ever gets so broke he starts seriously considering Scream 4, I'll put on that damn mask and come after him myself."
Got news tips for Paste? Email news@pastemagazine.com.
Others Tagged With