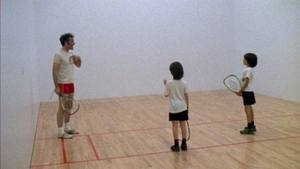 Directors: Ben Safdie, Joshua Safdie
Starring: Ron Bronstein, Frey and Sage Ranaldo
Cinematographers: Brett Jutkiewicz, Joshua Safdie
Studio/Run Time: IFC Films, 100 mins.
Unconventional parenting
Is Lenny Sokol the coolest dad ever? Or is he a walking hazard who exposes his often unruly twin boys to risks most parents would consider unthinkable, if not prosecutable? Both, actually. This autobiographical film by brothers Ben and Joshua Safdie (The Pleasure of Being Robbed) is a freewheeling, totally bugged-out portrait of a father whose love is inseparable from chaos.
Indie director Ron Bronstein (Frownland) is an existential dervish as Lenny, a divorced projectionist who only has custody of his boys (Sonic Youth offspring Sage and Frey Ranaldo, in their full seven-year-old glory) for two weeks a year. Emotionally generous and refreshingly real in its restless, handheld whirl, the film veers between tenderness and panic, capturing gritty details of a New York City that barely seems to exist anymore. The wiry Bronstein's caffeinated pulse gives the film its improvisatory edge, as the story takes unpredictable leaps through the magic and terror of childhood.
Watch the trailer for Daddy Longlegs:
Others Tagged With