Salute Your Shorts: Sidney Lumet's "Three Plays by Tennessee Williams"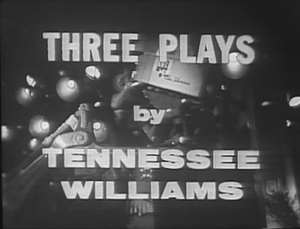 Salute Your Shorts is a weekly column that looks at short films, music videos, commercials or any other short form visual media that generally gets ignored.
At the end of last year, Criterion's release of The Golden Age of TV was landmark moment for DVD, not just due to the quality of its material but also due to its rarity. As far as I'm aware, that release was the first time that kinescopes had been transferred onto DVD. Kinescopes are recordings, generally 16mm, of live television broadcasts that, due to the technicalities of frame rate differences and the degradation of old TV signals and equipment, are ugly in a way that makes VHS tapes look vivid and clear. Sound is often even worse, and so because of these technical limitations there isn't much of a market for re-releasing these broadcasts, even when they're of stunning material.
When I covered this collection previously, I noted that, "After watching the set, it's hard not to wish for both the ability to see more of these old kinescopes and for us to produce some live dramas today. Key figures from live television are missing entirely, such as Sidney Lumet …" Thankfully, Criterion seems to have listened to fan reactions to the set and saw fit to release another of these early, live television plays onto DVD, though this time it was hidden as a bonus feature for Sidney Lumet's The Fugitive Kind, a fitting place for his adaptation of "Three Plays by Tennessee Williams."
The lack of Lumet work on the Golden Age set was unfortunate because as well as his reputation as a filmmaker, he's also regarded as perhaps the greatest director of live television in the history of the medium. Originally a Yiddish stage actor in New York during his childhood, Lumet gradually transitioned to Broadway and radio as he grew older while it gradually dawned on him that, as he put it, he was short. While he was one of the original members of The Actor's Studio, Lumet left that and formed his own acting workshop with a focus on acting styles that weren't strictly realistic. Running the studio led to directing productions as well.
Teaching acting classes didn't pay well and other work was intermittent, so when Lumet's friend Yul Brynner recommended he try out television, Lumet jumped at the chance. Producer Charlie Underhill hired Lumet as Brynner's assistant director on Danger, a somewhat pulpy murder mystery show that was shot live at CBS. Lumet never watched television before he accepted the job, which meant that he took what he'd learned from a lifetime on the stage with him and adapted it to the television screen. Because he was actually sitting behind a camera, Lumet gained an incredible proficiency with lenses (as well as a hatred for zooms) that has remained important in his filmmaking ever since.
After just a couple of years, Lumet was promoted to director and continued working on Danger, I Remember Mama and You Are There. By all accounts he directed literally hundreds of episodes, though how many exactly no one seems certain (additionally, during this period the other auteur of live television John Frankenheimer worked as Lumet's assistant). While at the beginning of his career, no dramas were on television, with the release of "Marty" in 1953, they became one of the largest and certainly most prestigious parts of the industry. Lumet transitioned into working more on these for Playhouse 90, Kraft Television Theater, and Studio One, working on around 200 dramas before the form made its way off the air.
Between all of this, Lumet was still directing theater gigs, which ended up deciding his career perhaps more than his television work. Henry Fonda saw one of Lumet's plays and tapped the director for a film production of 12 Angry Men. In 1955 the worldwide success of Marty meant that TV-to-film adaptations could earn big money. 12 Angry Men had already been a successful TV drama and Fonda wanted in on some of those sweet, sweet TV-to-film dollars, and it turns out that his instincts about Lumet were right. With a mind-bogglingly short 19-day shooting schedule and a budget of only $343,000, the film was an unequivocal success and remains one of Lumet's greatest movies.
Fortunately or unfortunately, though, that wasn't enough to let Lumet become a full-time film director. His transition took place over the next five years and may not have ever occurred had it not been for studios moving production from New York to Los Angeles. This was compounded with the failure of his next couple films both commercially and critically. The Fugitive Kind, for instance, was his fourth movie and featured a very large budget (Marlon Brando's $1,000,000 salary for the picture was the largest one ever at the time it was made), but flopped extremely hard. While respected, Lumet's penchant for adapting literary plays did him no favors and his entire career has been caught between passion projects that tend to underperform and works made for nothing more than the money. Ultimately, he will always be the man who directed The Wiz. You can jump to your own conclusions from there.
During this period of flux in his career, Lumet directed "Three Plays by Tennessee Williams" for Kraft Television Theater. Though perhaps not as celebrated as Playhouse 90, Kraft was definitely one of the top tier drama programs of the time with each episode performing a different, frequently literary, play for television. This episode was one of the last for the show, and its format is in itself unique. Anthology episodes like this one were rare and, as a special treat, this one was introduced by Williams himself.
Williams' introduction begins by stating that the plays are so far removed from who he is now that they could almost be considered created by another person. Always negative about his own works, this introduction may be fitting for the earliest of these plays, "Moony's Kid Don't Cry," from 1941, but the two later plays were written after The Glass Menagerie and are certainly from his mature period. Williams was never particularly celebrated for his one-act plays and I would guess he simply wanted to separate himself from them should things turn out poorly. Lumet, on the other hand, was thrilled with the material he was given and as he considered Williams to be a great artist, didn't change a line of the plays for their adaptation to television. "I would rather do bad Tennessee Williams than good anybody else," he later remarked, and as far as he was concerned, these one-acts were great works.
"Moony's Kid Don't Cry" is the first of the trio, and, unfortunately, it's also the worst. Moony, played by Ben Gazarra, and his wife (Lee Grant) get into an argument over breakfast. Their talk goes to money, existential freedom and the difficulties of rearing their child while touching on Williams' theme of modern America and its demands crushing sensitive souls beneath its feet. Unfortunately, while Gazzara later developed into an accomplished actor, here, his Actor's Studio-style performance is overblown and hammy to the point of ridiculousness. Grant does a much better job, but given that there's only two actors, having one bad performance drags down the entire film. This wasn't the first time Gazzara did work by Wiliams, and Lumet seems to have put total trust in Gazarra and molded the camerawork around performances in a way that's expressive, but when combined with the acting, ends up equally overblown.
That being said, while the end result is ridiculous, the teleplay's camerawork and editing manages to be almost invisible despite how big a role it plays in the short's failure. Cameras perfectly anticipate the program's blocking and weave in and out with perfect assurance. But Lumet's chameleon-like ability to film perfectly in line with his material fails here simply because rather than grounding things he keeps them absurd and in Gazzara's heightened and melodramatic sense of reality.
After that, "The Last of My Solid Golden Watches" is refreshing in the way it tackles one act's worth of thematic material in a one-act play, rather than trying to be profound about everything and failing to say anything at all with clarity. It's in some ways a counterpart or predecessor to Arthur Miller's Death of a Salesman. It stars Thomas Chalmers as a traveling salesman who's getting up in years after a lifetime of selling shoes. After he invites a younger shoe salesman up, he finds that neither the products they sell nor the men themselves have anything in common and that he may have wasted his life. He's accumulated material worth in the form of watches he's won for best salesman awards, but that's about it. For the most part he's like Andy Rooney, just hanging around to grouch to young folks about how things should be (IE: how they were) and how he doesn't understand the world anymore.
With this more restrained material, we can get a better sense of why Lumet was so successful. Again, Lumet's camerawork is relatively invisible, but here it does more than focus attention on a flailing Gazzara. Most notably, Lumet doesn't rely on either shot/reverse shot editing or on two-shots for dialogue, but rather lets the dialogue and actions determine how to film things. Characters move around and the editing and camerawork balances their compositions without becoming invasive. The infrequent use of close-ups accentuates things perfectly, with the end result being a powerful play. The best example of Lumet's understated style in the film comes from how Chalmer's co-worker rarely pays attention to his elder, but Lumet refuses to draw attention to this until Chalmers himself reacts. There's something poignant about the frame focusing on the old gentleman ranting away while his counterpart reads comics off camera rather than paying him any mind.
The last play of the set is "This Property Is Condemned," which focuses on a girl named Willie telling the story of her dead sister Alva and where she came from. In a way it's a classic tale of misery in the impoverished south, and when the play was later adapted into a full-length feature this portion became for the most part simply a frame tale. In and of itself, though, it has enough drama to sustain its 12 minutes, tracing the girl's downfall as a parable for the world around her. Lumet draws an association between Willie and Blanche DuBois and it's fitting, as the story's young antagonist is just as much a lost soul as the character who came afterwards and made Williams famous.
While young Zina Bethune at times struggles over Williams' florid language, she turns in a stunning performance that reflects Lumet's true gift with actors. She delivers what's for the most part a long monologue with a playful sexual undercurrent and an optimism that belies the character's dark place in the world. "Condemned" is the last technically interesting of the three dramas, for the most part drifting in and out of a static two-shot between its characters, but the blocking and Bethune's occasional movements in and out of the frame give the piece a baroque feeling that's perfectly in line with its material. For a play that lasts less than 15 minutes it's incredible how full and moving "Condemned" really is.
"Three Plays by Tennessee Williams" is disappointing in that it's almost certainly not one of Lumet's best television productions, clearly chosen as an extra for thematic unity rather than strictly quality. It does have some moments of greatness, though, and helps shed light not just on The Fugitive Kind which it's attached to but also Lumet's entire career, as this period of his early works has long been largely unavailable to the public. It may be a mixed bag, but I'm thankful the work saw a release at all. After having this taste of what Lumet did in this constricted medium, I'm once again left hoping to see more of his teleplays from the period and more golden age television in general to make its way into the hands of the public period.
Others Tagged With