Willie Nelson: Country Music/Jakob Dylan: Women and Country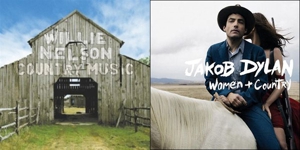 Willie Nelson: Country Music
[Rounder]
85/100
Jakob Dylan: Women and Country
[Columbia]
72/100
T Bone Burnett countries up an unlikely pair
Among the many differences between Willie Nelson and Jakob Dylan, there's the matter of frequency: The silver-braided Nelson releases new records two or three times a year, like clockwork, while the younger Dylan has kept a more measured pace since his band The Wallflowers wilted from its late-'90s peak. Nonetheless, both performers tapped T Bone Burnett to be the sonic architect of their latest efforts, each album playing with its own idea of country music and showcasing two different sides of the Oscar-winning producer.
Nelson's Country Music thumps to life with the unfussy airs of a pickin' parlor throwdown. This batch of vintage tunes—drawn from the American canon of country, blues and gospel as defined by seminal types like Ernest Tubb and Bob Wills—is delivered with his soulful, weathered authority. His trick is to seem nonchalant, but the sessions themselves were anything but offhand.
Nelson's tenure at the powerhouse Americana label Lost Highway yielded nearly 20 new albums, but none as distinguished as Teatro, his 1998 Island Records collaboration with ambient wizard Daniel Lanois. With Country Music signalling his arrival at a new label (Rounder) and a return to the studios of a city (Nashville) he'd once abandoned, Nelson decided to repeat a winning approach. Just like he did with Lanois, for Country Music he handed the keys to a studio whiz.
The songs and sidemen (Ronnie McCoury, Buddy Miller) were picked with an ear to Grand Ole Opry authenticity, akin to Burnett's work on the Coen Brothers' O Brother, Where Art Thou? soundtrack. The natural, gloss-free sound clears the way for Willie's voice, as cozy as an old pair of slippers; the 77-year-old singer's persona is inseparable from any song he sings, even when he's never sung it before and even when it's cruise-ship reggae. Burnett simply picks a setting, introduces some variables—like the traditional "Satan Your Kingdom Must Come Down," previously covered by Uncle Tupelo and Medeski, Martin and Wood—and steps out of the way.
Women and Country, Jakob Dylan's second solo album, poses a different challenge. The singer-songwriter, now 40, long ago stepped out of his father's shadow (and outsold him by bucketloads) with The Wallflowers. But today's audiences are less enthralled by the mood-rock phenoms of the post-Nirvana goldrush. Dylan needed to recast himself and so he went back to Burnett, who brilliantly mapped an aural landscape far removed from the brooding, Tom Petty-inspired fare of The Wallflowers' breakthrough Bringing Down the Horse (which he also produced). Instead, Women evokes a mythical American South where an ambient drizzle of sounds—banjo, fiddle, pedal steel, the polyphony of New Orleans brass—sprinkled over lyrics about hard times.
Backed by the moonlighting harmonies of Neko Case and Kelly Hogan, Dylan sings soothingly about country roads and weathervanes, bloodhounds and blackbirds, floods and evictions. Maybe it's the presence of guitarist Marc Ribot, maybe it's the arrangements, or maybe it's Dylan's vocal register and choice of themes, but the vibe often recalls a more laid-back Tom Waits or Joe Henry. That's not bad company to keep, though Dylan's delivery lacks any edge or emotional undertow that make the lyrics speak more pointedly than Ribot's stinging guitar. No one would confuse this Jakob Dylan with the 26-year-old belting out "One Headlight"; Women and Country is a supremely professional, beautiful record that drifts easily into the background—it would make a great film score.
That might sound like a back-handed compliment for Dylan, but it's not a knock on Burnett. After all, film scores have made him famous: Over the last decade, he's had phenomenal success orchestrating vibrant moments using traditional American music on the big screen, from O Brother to Cold Mountain, and most recently Crazy Heart. It's an interesting contradiction, the mega-producer polishing down these mega-musicians to give them that old-timey Americana sound. But that's what he does, and with both Nelson and Dylan's new albums he succeeds beautifully.
Others Tagged With