Arcade Fire Releases Album Cover Art, Pre-Order Details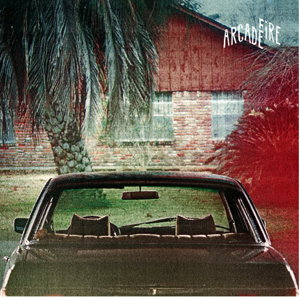 Following the pair of new songs leaking to the internet yesterday, the Arcade Fire has announced the details for its next album. Due out Aug. 2 in the UK and Aug. 3 in the U.S. and Canada, the band will release The Suburbs via Merge and the band's own Sonovox record label.
Cover art for the new record follows classic, artsy Arcade Fire fashion, featuring a washed-out vintage photo of an empty car parked near a palm tree for the front (pictured), and a black-and-white back cover reminiscent of credits from a 1930s horror flick. The band's site offers several pre-order options, including a variety of combos for digital, CD and vinyl options. The most pricey (and totally most awesome) is the double 12" vinyl that comes complete with a digital version of the album and a limited-edition screenprinted poster designed by Wes Winship from Burlesque of North America for a mere $44.99.
Arcade Fire has been teasing our ears these past few days, releasing first tantalizingly brief snippets of tracks "The Suburbs" and its B-Side "Month of May" on an online record you could spin yourself and then the same tracks in their entirety yesterday afternoon. Today, along with the forthcoming album art, Arcade Fire posted a hand-written note, signed by one "Arkady Fireovitch," on their website that reads, "We're pretty much done with our new album. The homestretch! We're very excited."
Needless to say, so are we.
Got news tips for Paste? Email news@pastemagazine.com.
Others Tagged With