Best of What's Next: Mimicking Birds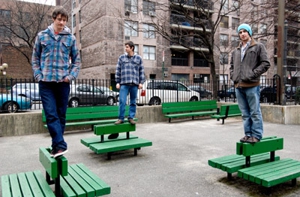 Hometown: Portland, Ore.
Album: Mimicking Birds
Band Members: Nate Lacey (guitar), Aaron Hanson (drums), Tim Skellenger (guitar)
For Fans Of: Modest Mouse, Bright Eyes, Sun Kil Moon
Not too long ago, Nate Lacey was just a typical college kid living in Eugene, Ore., playing guitar and making music for no one in particular. Then came a phone call from Modest Mouse's Isaac Brock, and Lacey suddenly found himself with a record deal and two new band members. Soon after, with drummer Aaron Hanson and guitarist Tim Skellenger in tow, Lacey set to work making Mimicking Birds' debut for Brock's Glacial Pace Records.
"It was kind of surreal," Lacey says of the experience. "That was not something that I had necessarily hoped for or anything, because before that I had never really played out or done a whole lot but record songs. I was going to keep recording and that was it."
Lacey is reserved; he speaks softly and deliberately, never seeming too excited about anything in particular. So it's no surprise that the recording of the Mimicking Birds' self-titled debut album (out now), which took place primary in Brock's Portland home, was a slow process, taking over a year. The result is a delicately haunting collection of 11 carefully-constructed tracks; with Lacey's spellbinding vocals floating above guitar, distortion and the hint of familiar sounds—a creaky door, a spinning coin—the record swirls through themes of creation and destruction, death and rebirth.
"I don't see it so much as being pessimistic, but more of a reason to do good while you're here— doing good and looking forward to going to some other place or getting rewarded when you die," Lacey says of the songs. Describing "New Doomsdays," one of the album's darker tracks, he says, "I guess it's more or less about ending and beginning. Those are essentially the same thing."
Although his head is full of lofty thoughts centering on dark matter and the cosmos, Lacey and his bandmates remain firmly rooted in reality. In April, they piled all of their equipment—and themselves—into a Subaru Outback for a tour with Jakob Dylan; . And all three have held on to their day jobs in Portland. "You know," Lacey says, "we're not making a living at it or anything."
Listen to "Burning Stars" from Mimicking Birds on the Paste & Starbucks Music Channel.
Others Tagged With