Best of What's Next: Pearly Gate Music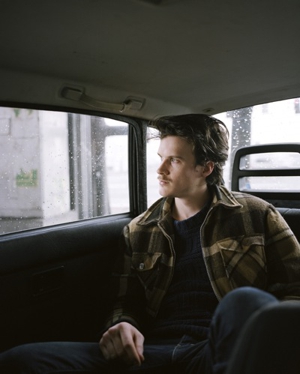 Hometown: Seattle
Album: Pearly Gate Music
For Fans Of: Sun Kil Moon, Okkervil River, Blind Pilot
Zach Tillman grew up listening to Peter Gabriel, Chicago, U2—"kind of '80s dad rock kind of stuff," he says—but there's hardly a trace of that in the music he makes these days. On his self-titled debut as Pearly Gate Music (out now), dog-eared, vintage-hued acoustic instrumentation buoys along his contemplative narratives of family, relationships, hazy memories and big escapes; he recorded most of the album in his Seattle living room with help from his older brother Josh, who drums for Fleet Foxes and has released solo material of his own. Tillman, who kicks off brief U.S. tour next week, recently talked with Paste about his love of Scandinavian audiences, recording the new album and making music with his family.
Paste: Did you record this album in your home?
Zach Tillman: Yeah, most of the basic, skeletal elements of it were all recorded at home and the rest was all done with friends. My friend Kory Kruckenberg, who's done a lot of records out of Seattle, and also my friend Chris Early, too, who's definitely somebody to look out for. Super talented and up and coming.
Paste: Do you have a lot of experience with the production side of things to be able to do all that recording by yourself?
Tillman: Yeah, I mean, I don't really think of it as production work. It's just friends sort of sitting around and collaborating. Any one person can get stuck at any point, so there are other people there to bounce ideas off of, so it's just me and Chris and Kory and then my brother Josh, too, all just sitting around and bouncing ideas off each other.
Paste: Tell me a little about the inspiration behind the tracks on your new album.
Tillman: I was trying to write stories, really, at the heart of it. What happens with me is I get a little lyric or a melody stuck in my head, and then I'll build a little bit of meat as far as lyrical content first and then I just check in and see where I'm at and try to build a little story off of it. For me it's all really allegorical, just little stories about love or loss or death or life.
Paste: Is there a specific place where most of your writing takes place?
Tillman: There wasn't one specific place at all. I mean, the living room of our apartment was kind of the main place where I wrote, but I think that's more out of convenience than a power place. That's where the guitars were.
Paste: That's kind of cool, then, that this record was born in your apartment and then was recorded there as well.
Tillman: Yeah, absolutely, and there are times on the record where you can hear the apartment door opening, or you can hear the refrigerator opening and closing. I ended up really falling in love with that stuff because it gives it a really specific sense of place.
Paste: How do other people tend to describe your sound?
Tillman: I get kind of all across the board. I think a lot of people are confused because of the Fleet Foxes connection. A lot of people draw that line to the Fleet Foxes. It's kind of funny to me, because I can't really hear any of that. But it's just really the production of it that speaks pretty loudly about putting it into a genre, since it's so lo-fi. I hear the word "Americana" a lot, which puts a bad taste in my mouth. But I don't really know how to answer that question.
Paste: Does it frustrate you that people tend to make the association between you and Fleet Foxes so frequently?
Tillman: No, people are really into that kind of bubblegum-card, cursory, trivial information. I think that's become part of musical culture. You just collect a bunch of facts to share with your friends. Which is fine—I mean, that doesn't bother me. And I love those guys and we're all kind of buddies up here. I played keys with Josh for a while and I've played with Crystal Skulls and so to me it's just a group of people who've made music together. And Fleet Foxes, for good reason, has gotten a lot of attention, so it's just kind of the obvious allusion. So it doesn't bother me—it just seems a little lazy to me when there's a musical comparison drawn between Pearly Gate Music and Fleet Foxes. It's just not right. It gives me the impression that they haven't listened to either record. But I love those guys, and Josh was a huge asset in making this record because his percussion assets are just incredible. I'd be struggling with something and he'd pick up a wooden spoon and a kitchen pot and just make magic happen, and I'd think, "Oh my God, thank you for being here."
Paste: Was music a big part of your lives growing up? What kind of stuff was playing around your house?
Tillman: Yeah, we listened to Peter Gabriel a lot. We listened to a lot of Chicago, and U2 was around a lot. Kind of '80s dad rock kind of stuff.
Paste: Do you have other siblings, and are they interested in music?
Tillman: We have two younger sisters, and the oldest of those, Kelsey, has an amazing voice. I'd love to have her out to sing on some stuff at some point. But she's married. She's the young, married, focused one, but we'll see if I can convince her.
Paste: What's your favorite song to perform at the moment and why?
Tillman: That's interesting, because the last tour I did was with Daytrotter Barnstormer thing, and so I was just playing with Jenna, my partner, love—I hate the word girlfriend, I've just always hated it—so it was really stripped down, and my favorite song to perform in that was "Gossamer Hair." The middle section is just this really quiet guitar and I could have this cathartic, screaming moment on stage, which I always felt really good about afterward.
Paste: You have your record coming out, but what else is on the near horizon?
Tillman: Just a lot of boring right now. I've felt really spoiled at home and have just been eating a bunch of really good food and gardening and hanging out with Jenna and we've been blowing off our other friends. And then I'm doing one U.S. tour and then flying to Europe to do some shows, and then flying back and doing more U.S. touring after that. So that's kind of all I can think about.
Paste: When does the first U.S. tour kick off?
Tillman: Around May 20. We're doing a show in Seattle and then Portland, then home for a few days and then doing a big U.S. thing for the month of June.
Paste: And where are you going in Europe?
Tillman: I'm playing the Hard Rock Calling festival at the end of June, and then I'm doing some shows with an Australian band called The Middle East. And that should be just UK and Western Europe, probably France, Holland, Germany kind of deal. I don't think there's any Scandinavia in there, which breaks my heart. I love going there.
Paste: Is that your favorite place to perform, then, outside of the States?
Tillman: Yeah, it's incredible. The audiences there love music so much. They totally party, and it's this crazy, rowdy crowd. Especially in Norway. And you think you're gonna get beaten up, but then as soon as the music starts everyone is dead quiet and attentive and then there's raucous applause between songs and then quiet again.
Paste: What about collaborations? I know you and Josh toured some together. Are you looking to collaborate with him again, or with other musicians?
Tillman: I hope so. I always want Josh to be around. I love singing with him and doing percussive arrangements. I like being at the helm of records, though, and playing as much as I can on my own. I played bass in a few bands and I like to play drums and guitar and I can make my way around the keyboard and percussive stuff. Usually I know what I want for a song, so instead of coaching someone to play the way I want it played I figure, why not just cut out the middleman and just play it myself. That way if it sounds bad you don't have to be mad at one of your friends. You can just be mad at yourself.
Paste: If you weren't making music, what do you think you'd be doing instead?
Tillman: I don't know. That's a depressing thought, because I'm really doing what I want to be doing. I'd be a drunk. I'd be a bartender and just be drunk all the time. No, I do gardening a lot now, so let's just say I'd be a better gardener than I am now because I'd have more time to do it.
Others Tagged With