Best of What's Next: Sarah Jaffe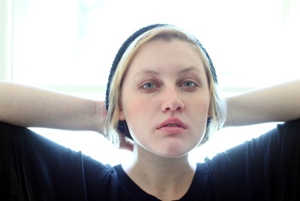 Hometown: Denton, Texas
Album: Suburban Nature
For Fans Of: Vic Chesnutt, Elliott Smith, Katie Herzig
"I love Texas," says Sarah Jaffe, "but it's pretty 'it what it is.'" The 23-year-old singer/songwriter (whose last name rhymes with "taffy") is at a mall in her hometown, on break from touring and killing time before she catches a movie. "I grew up in a place that was pretty much boring. It was brown and flat, but I think that humbleness is very attractive."
Jaffe is a lot like her home state: Wide-open, humble and matter-of-fact, she crafts beautiful, raw songs that "are what they are" in the very best way. Playing like wise, witty diary entries marked with teardrops, growing pains and effusive honesty, her debut album Suburban Nature (out now) ebbs and flows on a sea of candid relationship narratives. "Love is interesting, because when two people come together that way, it can be really hostile and beautiful at the same time," she says of the inspiration for the album's 13 songs, some of which were written before Jaffe graduated from high school.
The key to avoiding anxiety over performing such personal songs is confidence, a trait Jaffe easily exudes in conversation but that melts into a bewitching vulnerability in her music. "I've never written to impress, I've always written out of honesty," she says. "I hope people will appreciate that honesty and relate it to themselves if they can."
Jaffe is planning on touring for a year supporting Suburban Nature, but loves coming home to her family in Denton, who she calls her "centrifugal point." "For as long as I can remember this is the one thing I've always wanted to do and I feel at home with," she says over the hustle and bustle of the shopping mall. "It fills me. It makes me very very happy to write and to play and to travel. I can't really see myself doing anything else and I don't want to be doing anything else."
Listen to "Clementine" from Suburban Nature on the Paste & Starbucks Music Channel.
Others Tagged With