Colour Revolt Talks New Album, Releases First MP3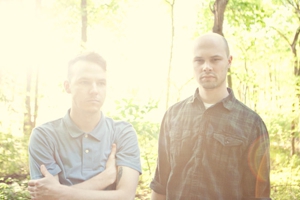 "You probably thought we were dead or just forgot about us," the first sentence of Jesse Coppenbarger's open letter to fans on Colour Revolt's MySpace reads. "That's ok."
After being dropped from Fat Possum Records last year and subsequently losing a guitarist, bass player and drummer, the frontman for the Oxford, Miss. band is amazed he and remaining vocalist/guitarist Sean Kirkpatrick are still making music at all—let alone releasing another Colour Revolt album this summer.
The Cradle, which drops Aug. 10, is exactly what it sounds like: a rebirth. A new beginning for a band that has had plenty of reasons to throw in the towel over the years, but continues to utilize creative resources to continue existing.
Aggresive-yet-pensive album opener "8 Years" is a reflection on the band's history. As Coppenbarger says, it was an opportunity for the remaining members of the band to share stories about "the good things and the bad things and the weird things" they have encountered on the road together. "A lot of it is just kind of the heartbreak of losing the people who are like your family, your brothers—but also the sense that this thing is going to keep going," he says.
While The Cradle begins with rumination, it ends with a proclamation: "I know that new fears will begin tomorrow / But tonight I'll only think on the absence of things." Those lyrics, found on final track "Reno," are what inspired the name for Coppenbarger and Kirkpatrick's record label, New Fear, created after their split with Fat Possum last year. The remaining Colour Revolt members relied solely on donations from fans and pre-sale orders to start the imprint, hire their own management and booking agent, and distribute the record through Alternative Distribution Alliance. "It was very necessary for us to do that because we really don't have much money at all," Coppenbarger says.
In addition to the monetary help they received from fans, Norma Jean's Daniel Davison, Unwed Sailor, Bear Colony and Chase Pagan's Brooks Tipton and producer/former Whigs bassist Hank Sullivant also lent their talents to Colour Revolt's latest effort. With Davison on drums, Tipton on keys and Sullivant on bass and behind the sound board, the three musicians spent a week recording The Cradle with Coppenbarger and Kirkpatrick at Echo Mountain Studios in Asheville, N.C.
Like Colour Revolt's previous release, Plunder, Beg, and Curse, the new album was also recorded live-to-tape. Coppenbarger says Sullivant, known also for his work with MGMT, had a very distinct and creative vision for the record from the get-go. "It was really fun to work with somebody who was that excited and that passionate about what they wanted to do," Coppenbarger says. "It was infectious."
While Colour Revolt's gritty, Southern roots are still prevalent on The Cradle, the propulsive synth/bass line on "Each Works," and the haunting acoustic melody that carries "Everything Is The Same," are reflective of how much the band has matured since their collegiate, basement-rock days.
Coppenbarger says he is more proud of this album than anything Colour Revolt has produced in the past and feels these are the best songs he and Kirkpatrick have written. "We want people to know that Colour Revolt is going to keep making records," he says. "This is a new thing. It has baggage. It has weight. But who doesn't?"
Download "Our Names," the first single from the new album, here.
The Cradle's tracklist:
1. 8 Years
2. Our Names
3. Heartbeat
4. The Cradle
5. Everything Is the Same
6. She Don't Talk
7. Each Works
8. Mona Lisa
9. Brought To LIfe
10. Reno
Got news tips for Paste? Email news@pastemagazine.com.
Others Tagged With