High Definition: Late Night Music on the Telly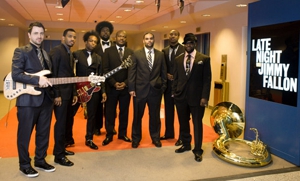 Jay Leno might have fended off Team Coco to win the late night war on NBC, but along with Conan O'Brien—and, many would argue, America—the loser of this battle was music. Last night, just before Craig Ferguson's Late Late Show on CBS hosted Wilco, Leno welcomed the members of Limp Bizkit onto his Tonight Show stage. Last week, the musical guests included Michael Bolton and Godsmack. The week before that featured Creed.
Not that O'Brien was always spot-on with his music choices (he also hosted Creed), but his team took more risks with artists like Andrew Bird, Regina Spektor and Neko Case. That love of music has surfaced on his tour, where he's covered songs by The Who, John Lennon and Radiohead. He'll likely have even more freedom when moves to TBS in the fall.
But the best late-night music is hosted by the man who quietly ignored The War Between Hosts, Jimmy Fallon. With his brilliant selection of The Roots as his house band, the Late Night musical line-up is often inspired. Sharon Jones & The Dap Kings, The New Pornographers, The Flaming Lips with Stardeath and White Dwarfs, and Gogol Bordello all have played in the past month.
Late-night TV appearances can be huge breaks for newer bands like The XX, Beach House, Yeasayer and The Whigs, all of whom have played for Fallon this year. Both Ferguson and David Letterman at CBS have debuted scores of new bands over the year, the latter even has launched his own record label. Tonight, Jonsi performs on The Late Late Show. There might hardly be a commercial radio station that plays him, but stay up late enough, and you can see him on national TV. I predict it'll be spectacular.
But with the help of The Roots, performances on Fallon can be special, too. This week, it's a tribute to The Rolling Stones with guests covering tracks from Exile on Main Street. Last night Green Day played "Rip This Joint." But I'm sure Limp Bizkit was every bit as good as Leno's monologue—am I right, am I right? … Can I get a rimshot, Smitty?
Here's Green Day performing "Rip This Joint" on Jimmy Fallon last night:
And Wilco performing "Deeper Down" on Craig Ferguson last night:
Others Tagged With