Hunter S. Thompson's "Prisoner in Denver" and Four Other Article-to-Movie Adaptations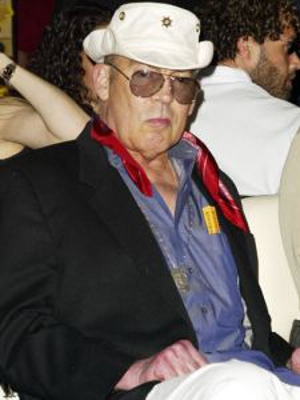 The life and work of Hunter S. Thompson have already served as the inspiration for several films (Fear and Loathing in Las Vegas, Where the Buffalo Roam, Gonzo), and there may be another such movie on the way. According to The Hollywood Reporter, the Motion Picture Corporation of America bought the rights to "Prisoner in Denver," an article co-written by Thompson and Mark Seal which ran in Vanity Fair's June 2004 issue.
The article focused on the justice system in Colorado, in particular the trial and incarceration of 21-year-old Lisl Auman. Auman received a life sentence for a murder that occurred while she was sitting in a police car. Thompson took up Auman's cause and through his awareness-raising efforts helped to get her sentence overturned.
And just as the "Prisoner" adaptation won't be the first Hunter S. Thompson-inspired film, it won't be the first article-turned-movie either. Some newspaper and magazine articles have already made their way to the big screen, while other more recent news stories are still on their way to being transformed into film. Here are a few of those movies.
Adaptation
Adaptation began with Susan Orleans' book, The Orchid Thief, which developed from a story she published in The New Yorker in 1995. The 2002 film—directed by Spike Jonze and starring Nicolas Cage, Meryl Streep and Tilda Swinton—chronicles real-life screenwriter Charlie Kaufman's struggle to adapt the book into a film.
Easier with Practice
Writer/director Kyle Patrick Alvarez adapted the screenplay for his 2009 film Easier with Practice from an August 2006 GQ article by Davy Rothbart entitled "What Are You Wearing?". In the article, Rothbart details the "intense phone-sex relationship" he maintained with a woman for a couple of years. The film's protagonist Davy Mitchell embarks on a road trip with his brother Sean to promote his unpublished novel and somewhere along the way begins his phone-only relationship with Nicole.
Taking Flight: The Hunt for a Young Outlaw
This still-in-the-works film was inspired by an Outside magazine profile by Bob Friel. The subject of Friel's article is Colton Harris-Moore (AKA: The Barefoot Bandit), a teenage fugitive who's accused of stealing and crashing a plane, among nearly 100 other crimes. Pineapple Express' David Gordon Green has signed on to direct.
The Fugees
In 2007, the New York Times ran an article about a youth soccer team in Clarkston, Ga. whose players were all refugees from war-torn countries. Universal quickly nabbed the rights to the story, and the film is in development.
Got news tips for Paste? Email news@pastemagazine.com.