Paste's Summer Festival 2010 Guide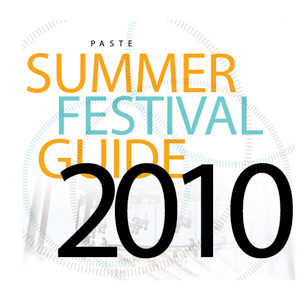 Sasquatch! 2010 kicks off tomorrow in Wahington state's unbelievably beautiful Gorge, an so too does the summer festival season kick off. Check out our guide to the best summer music festivals below, as well as a few, fun extras.
Sasquatch!
Intentionally situated in the middle of nowhere, Sasquatch! boasts awe-inspiring natural beauty with the famous Gorge Ampitheatre for its main stage.
Dates: May 29-31
Location: George, Wash.
Tickets: $70 per day advance, $80 at the gate
Headliners: Pavement, MGMT, Vampire Weekend, My Morning Jacket
Attendance: 25,000/day
Website: SasquatchFestival.com
Bonnaroo
Seven-hundred sprawling acres provide ample space for hippies and hipsters alike to enjoy the impressive music and comedy lineup spread across the festival's multiple stages.
Dates: June 10-13
Location: Manchester, Tenn.
Tickets: $234.50 and up for a four-day pass
Headliners: Jay-Z, Dave Matthews Band, Stevie Wonder, Kings of Leon
Attendance: 80,000/weekend
Website: Bonnaroo.com
Pitchfork
Its biggest selling point is its cost: Ticket prices are low without sacrificing lineup quality.
Dates: July 16-18
Location: Chicago (Union Park)
Tickets: $40 per day, $90 for a three-day pass
Headliners: Pavement, LCD Soundsystem, Modest Mouse, Raekwon
Attendance: 18,000/day
Website: PitchforkMusicFestival.com
Newport Folk Festival
At 51, Newport Folk Fest is the oldest (and arguably classiest) of the summer bunch, combining a historic setting with an equally notable lineup.
Dates: July 30-August 1
Location: Newport, R.I. (Fort Adams)
Tickets: $125
Headliners: Andrew Bird, The Avett Brothers, John Prine, Swell Season, Jim James, Sharon Jones and the Dap Kings
Attendance: 10,000/day
Website: NewportFolkFest.net
Lollapalooza
Long the go-to fest for music lovers who hate camping, Lolla manages to stage a full-blown festival smack in the middle of a metropolis.
Dates: August 6-8
Location: Chicago (Grant Park)
Tickets: $190 advance, $215 at the gate
Headliners: The Strokes, Arcade Fire, Lady Gaga, Green Day, Soundgarden, Phoenix
Attendance: 65,000/day
Website: Lollapalooza.com
All Tomorrow's Parties New York
This year's incarnation is partly curated by filmmaker Jim Jarmusch
Dates: September 3-5
Location: Monticello, N.Y. (Kutsher's Country Club)
Tickets: $250 three-day pass
Headliners: Iggy & the Stooges, Sonic Youth, Explosions in the Sky
Attendance: 2,700/day
Website: ATPFestival.com
Bumbershoot
Seattle's perennial event combines music, dance, film and other arts to create a multi-faceted experience under the shadow of the city's iconic Space Needle.
Dates: September 4-6
Location: Seattle (Seattle Center)
Tickets and headliners: TBA
Attendance: 50,000/day
Website: Bumbershoot.org
Austin City Limits
Technically this is a fall festival, but the Austin weather and ACL's breezy vibe will make you forget that Halloween's just around the corner.
Dates: October 8-10
Location: Austin, Texas (Zilker Park)
Tickets: $165 advance three-day pass, $185 regular three-day pass
Headliners: TBA
Attendance: 65,000/day
Website: ACLFestival.com
Extra credit:
How to Not Die at a Festival
Festival Food That Doesn't Suck
Lilith 2.0
Kids' Corner
Reduce, Reuse, Rock 'n' Roll
Others Tagged With