Rolling Stones: Exile on Main Street: Deluxe Edition
[Rolling Stones/Universal]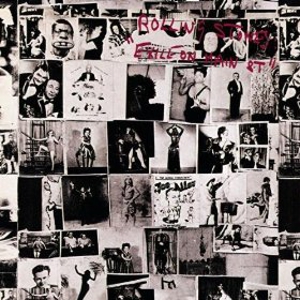 Classic gets tidier, but still rocks
First thought on hearing this cleaned-up edition of the most notoriously dirty album in rock history: "Oh, good, I can finally understand the words." Second thought: "Oh, wait—I don't want to understand the words." Some things, as they say, are better left unknown.
What that means, basically, is that I have my memories of this album and you have yours, and in this particular case I'm happier knowing and recalling what I knew and recalled long before Mick and Keith and a whole new generation of sound engineers got their hands on Exile. I don't mean that my way of hearing it is more correct than any other. I mean it's such a touchstone that all the reprocessing in the world isn't going to significantly alter the experience of hearing it.
What started as a kind of accident—album sessions in Côte d'Azur, France, in the basement of a 16-room mansion led to multitrack bleed-through—became Exile's calling card. The album's murk puts it in a unique place among both Stones albums and rock classics: No matter how closely you listened, it always sounded distant and far off. And the reason I doubt this reissue will entirely change is because Exile communicates most clearly in flashes. "Skydiver inside her," "the judge and jury walk out hand-in-hand," "protest music, million-dollar fad"—these lines jump out of "Casino Boogie" like guideposts in music that's too swampy to comprehend in full.
Four decades on, this remains Exile's primary gift to the listener: implication rather than full definition. We keep hearing that rock and roll is a feeling, right? The Stones inhabited that feeling seamlessly here, mainly because the murk fizzed and fused those seams together. On a better-defined album we could hear that "Sweet Virginia" is more country than Let It Bleed's "Country Honk," but here it just seems more Stones—more attuned with their increasingly hazy outlook, and their embrace of all the American roots music they could gather in one place.
Keith Richards famously said, "When I was on heroin, I learned to ski and I made Exile on Main Street." Maybe that's why people seldom bring up the biggest stylistic difference between Exile and the Stones' other albums: gospel. The album seems so unholy, but "Let It Loose" is bathed in it, "Shine a Light" tweaks the form without disrespecting it and when Jagger sings "I don't want to walk, talk about Jesus" on "Just Wanna See His Face," there's no disguising where the track's apostate ghost-boogie comes from. If seeing God is the basic goal of drug use, this probably isn't a coincidence.
So how are the bonus tracks? Actually, pretty good. The outtake of "Loving Cup,"—maybe the cuddliest song of the Stones' career—is a bluesier 12-bar shuffle that stumbles to a close, while Keith's lightly echoed vocals and the New Orleans-style horns on the unreleased take of "Soul Survivor" put you right in the era; ditto "Pass the Wine (Sophia Loren)." Meanwhile "Good Time Women," (aka, the first draft of "Tumbling Dice") sounds merely like a very good Faces song. A few bands could have only issued these 10 tracks and forged a cult. The Stones rightly decided they had a masterpiece without them.
Others Tagged With