Start Press: In Your Game We Play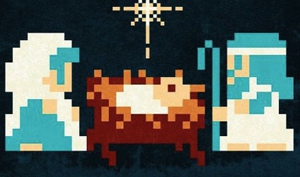 Page 1 of 2
In the Old Testament book of Sega Genesis, you can read about the first game Adam and Eve played together in the Garden of Eden. Before the Apple IIe. Before LuCiFeR666 tricked Eve into downloading a virus-infected copy of Resistance: Fall of Man. Before the curse descended and 8-bit Nintendo cartridges had to be mouth-blown like harmonicas. Before the sinister Red Ring of Death. Before Cliff Bleszinski dyed his hair streaky blond for the first ill-advised time. Before Adam and Eve were ordered to go play outside the garden.
The game was simple enough. By connecting a pair of plastic cups with a length of string, Adam and Eve realized they were able to communicate from distances of up to several feet. Adam marveled at the fact that he could hear Eve's voice spiraling along the taut fibers until it reached the cup he had mashed against his ear. They laughed and chatted this way late into the night until their eyelids grew heavy and a hush settled over the garden. Though the game depended on physical distance, Adam and Eve had never felt closer.
Childhood offers each one of us a taste of garden life. The world stretches out in all directions, begging to be explored. So many animals clawing the dirt, waiting impatiently for names. Play is how we begin to make sense of the world, testing its physical laws and emotional properties. Play is pushing buttons, pulling levers—just to see what happens. Play satisfies a primal impulse. And in our exploration we realize that we're not alone. The garden is crowded.
For all of our talk of "god games" and baptized cities called Rapture and life after death (a.k.a. respawning), we don't spend much time examining videogames in a religious context. While writing about the 1989 NES title Faxanadu a few weeks ago, I discovered that, in the original Japanese version for the Famicom, the gurus in the game who dispense save-game codes actually clutched crosses and their churches contained paintings of Jesus' crucifixion. When Nintendo of America licensed the game for Stateside release, they kept the code-dispensing gurus, but scrubbed Faxanadu's churches of all Christian iconography.
The template for early JRPG installments such as Dragon Quest and Final Fantasy nearly invariably told the story of some ancient prophecy about a savior (or band of saviors) who would arrive at the appointed time and deliver the earth from evil. The planet was typically in some kind of fallen, plague-filled ruin. Until you crushed the evil Lucifer stand-in, that is, with his scaly, bat-like wings and megalomaniacal aspirations. Then the closing credits would roll as you watched the darkness lifted from the land and the previously ashen landscape sprouting into glorious green hues.
"Then I saw a new heaven and a new earth," wrote the author of the biblical book of Revelation, Chapter 21. "...[God] will wipe away every tear from their eyes; and there will no longer be any death; there will no longer be any mourning, or crying, or pain; the first things have passed away."
I'm sensitive to religious themes wherever they emerge in popular culture. Just as the children of ancient Sparta were raised from birth to eventually wield spear and shield, I was dutifully groomed for service in God's army. My missionary parents made a pact that at least 50% of the stories they read to my siblings and me as children would be from the pages of Scripture. We never once slept late on a Sunday morning. Church attendance was non-negotiable. Youth pastors instructed us in how to share the gospel with our non-believing friends. My classmates who didn't accept Christ were allegedly going to Hell, and I felt a heavy burden of responsibility for their eternal destiny.
For the most part, videogames seem to have shrugged off their skittishness about religion. Dante's Inferno follows a knight of the Crusades as he plunges into the depths of hell to save his beloved Beatrice. Dante is obviously not feeling right in the head. Guilt over the atrocities he's committed in the name of God compels him to stitch a cross-shaped strip of crimson cloth to his own chest. Quantic Dream's Heavy Rain shoehorns a Christian zealot into its storyline, just like the thriller Se7en it's desperately trying to emulate. Early in Fallout 3, after you've escaped Vault 101 and discovered the town of Megaton, you discover a religious order called The Church of Atom whose far-fetched beliefs make Scientology's tenets sound positively rational by comparison.
Others Tagged With