Quentin Tarantino Won't be Found on the Set of the Jackie Brown Prequel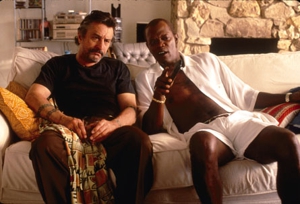 No word yet on who's playing who in the proposed prequel to 1997 crime flick, Jackie Brown, but you can be sure one key player will be missing—Quentin Tarantino.
JoBlo has reported that screenwriter Dan Schechter has penned a script based on the 1978 Elmore Leonard novel The Switch, which introduces the Samuel L. Jackson and Robert DeNiro characters in Jackie Brown. Tarantino's flick, in which the titular flight attendant (Pam Grier) is caught with arms dealer Ordell's (Jackson) cash and decides to set him up to avoid the feds, is based on Leonard's novel Rum Punch.
Schechter will also produce the project, along with Michael Siegel (Be Cool). Author Elmore Leonard will be executive producing the project, but a director, studio and cast all remain TBD.
According to the JoBlo report, Tarantino has given the thumbs-up to the project, although he will not be involved with it. In a February 2010 interview with the Telegraph UK, Tarantino said Leonard was "probably the biggest influence on my life" and that he was grounded for a summer because he got caught stealing The Switch from a K-Mart.
Got news tips for Paste? Email news@pastemagazine.com.
Others Tagged With