A Vampire Playlist That Doesn't Suck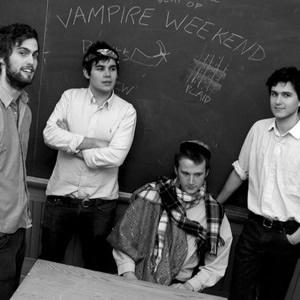 For your listening pleasure, the team at Paste has compiled our favorite vamp-centric cuts, perfect for rocking out on your way to an Eclipse screening. While you listen, feel free to peruse our field guide to vampire myths and our exhaustive history of the pop-culture vampire.
Vampire Weekend – "Cape Cod Kwassa Kwassa": We had to.
Antsy Pants – "Vampire": Transylvanian twee by Kimya Dawson for the Juno soundtrack.
Jace Everett & CC Adcock – "Evil (Is Going On)": A swampy, bluesy cut the vamps of Bon Temps, La. would love from the performer behind the theme song for HBO's True Blood.
The Birthday Party – "Release The Bats": Nick Cave's frenetic yelping over the pounding beat is equal parts otherworldly, terrifying and awesome.
Beck & Bat For Lashes – "Let's Get Lost": An anthem for the younger, angstier teen vamps and one of our favorite cuts from the Twilight: Eclipse soundtrack.
Peter Tosh – "Vampire (Dracula Version)": Reggae has never been so unsettling.
Atmosphere – "Vampires": Rap's sensitive guy riffs on the Smashing Pumpkins' assertion that "the world is a vampire," rhymes "poison" with "toy bin."
Bauhaus – "Bela Lugosi's Dead": The grandaddy of goth anthems, made famous by its appearance (along with Bauhaus) in the film The Hunger.
OutKast – "Dracula's Wedding (feat. Kelis)": André 3000 plays a lothario Drac over creepy harpsichord strains on this cut from Speakerboxxx/The Love Below.
Deep Purple – "Bloodsucker": A bombastic hard-rock anthem for the vamp who likes to party.
Bon Iver & St. Vincent – "Roslyn": The fragile, acoustic closer is another Twilight track, but the elegant harmonies feel at home in any era of vamp-lit.
The Arcade Fire – "Vampire/Forest Fire": Because nothing says "nocturnal bloodsuckers" quite like banjos!
Echo and the Bunnymen – "The Killing Moon": Another unforgettable, eerie '80s brooder.
Gorillaz – "Dracula": A breezy, reggae-tinged bonus track from the toon ensemble's first album.
Radiohead – "We Suck Young Blood (Your Time Is Up)": When Thom Yorke asks "Are you hungry?" over minor-chord piano strains near the beginning of this song from Hail to the Thief, it's impossible not to get chills.
Pearl Jam – "Blood": Eddie Vedder's voice is pushed to the brink of its ability as he shrieks and grunts over some seriously funky guitar riffs.
The Misfits – "We Bite": This fast-paced shouter would be a favorite of the punk-rock bloodsuckers at The Bronze.
The Magnetic Fields – "I Have The Moon": Is there a better vampire anthem than this sweeping, banjo-tinged (again with the banjo!) classic from Stephin Merritt and Co.? Look at the first verse: "We have walked in ancient times/And we've been burned for many crimes/We have ended many lives/But we never really died." Too perfect.
Los Straitjackets – "Rockula": Lucha libre mask-wearing surf-rockers shred on a Drac track that's more California sun than Transylvanian gloom.