Alejandro Escovedo: Street Songs of Love
[Factory Records]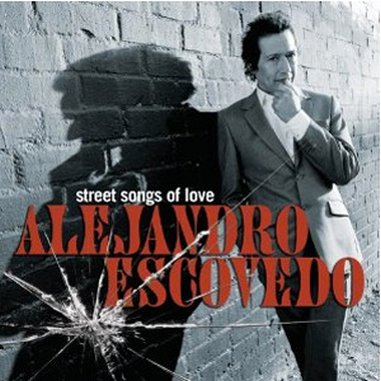 Unassuming excellence
From his early work with the Nuns, on through Rank & File, the True Believers and more recently with his stellar solo albums, Alejandro Escovedo has remained a low-key legend. He's a guy who, on any given night, can take one song and turn it into an orchestral ballad, a Stooges knife-fight or a Faces-flecked scratch-rocker; sometimes he's David Bowie without the stage dress, sometimes he's Townes Van Zandt with more easily-tamed ghosts, but he's been a relentless—if largely unrecognized—presence on the musical landscape over the last few decades.
But thanks in part to high-wattage fans like Bruce Springsteen, Escovedo now seems to have entered the early curves of a victory lap. Fittingly, he's chosen to commemorate it with a crash of guitars. With writing partner Chuck Prophet and former T. Rex producer Tony Visconti in tow (and a fiery Boss cameo on the standout "Faith"), Street Songs of Love finds Escovedo celebrating the gritty intersection between the Stones and the Velvet Underground. As the twang of his earlier solo work slides into loose, greasy soul, the 59-year-old sounds like nothing less than a fountain of youth. Even when the tempo slows on bar ballads like "Down In the Bowery," his voice remains spry.
Not all of Street Songs' compositions rank high in his canon—the lyrics on "Tender Heart" feel a bit on the nose, while "This Bed Is Getting Crowded" doesn't scald the way, say, "Castanets" did—but Escovedo's tortured romanticism remains resplendent. "Undesired" is a beautiful losers' travelogue, and even the closing instrumental "Fort Worth Blue" feels confessional. While his weathered humanity may be better captured on sublime offerings like More Miles Than Money, it gilds the edges of Street Songs, a collection bursting with unflagging energy.
Others Tagged With