Best of What's Next: J. Cole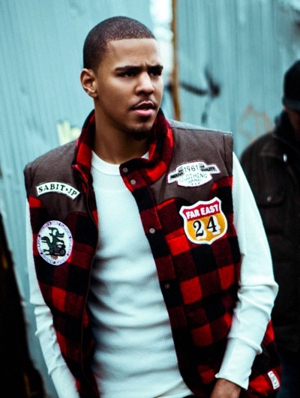 Born in Germany and raised in North Carolina, 25-year-old rapper J. Cole (the J's for Jermaine) is currently in the middle of blowing up. He released his debut mixtape The Come Up in 2007 shortly after graduating magna cum laude from St. John's University; it was enough to earn the attention of some of rap's royalty, including Jay-Z, who signed Cole to his Roc Nation label in 2009. Cole then cut a feature on Hova's Blueprint 3 and toured with him, earning heaps of praise from Vibe and XXL; add in his stellar sophomore mixtape The Warm Up, a guest verse on Wale's Attention Defecit and Cole's "College Conversations" tour, and all the brouhaha over his first single "Who Dat" and forthcoming ("coming hopefully, let's pray, in August") debut LP is understandable. Paste recently chatted with Cole about his recent time in the spotlight, how he manages the hype and why the Internet might be both the best and worst thing to happen to aspiring rappers.
Paste: How do you feel about making it to a Vibe online cover?
Jeremiah Cole: Yeah, I think they wanted to do something playful for the website. It's no magazine cover just yet, but it's something.
Paste: How does it feel, them calling you the next Nas?
Cole: Man, it's getting… It's cool, I appreciate where it's coming from, but honestly, it's just getting crazy. It's coming from a lot of different places. I can't get too upset with it, but one part of me is saying "It's too much! Nas is Nas. There's too many comparisons going on." It's that one week, a different comparison the next week. But that's just a matter of me having to establish myself more in the game. If people are gonna be doing comparisons, I just have to up myself.
Paste: Are you worried about the hype, that you're not going to be able to meet those expectations?
Cole: No, I think everything's moving at a good pace. But at the same time, if you get ahead of yourself it might rub people the wrong way. I just feel like it's too early for those comparisons, I've always felt like that. And I'm a huge Nas fan—a fanatic, actually. But I see where everyone's coming from with the comparison.
Paste: How did you originally get signed to Roc Nation by Jay-Z?
Cole: It was before Blueprint 3, I signed in early 2009 but met him in 2008 around election time when we were both doing stuff for the Obama campaign.
Paste: What was it like going back to your alma mater for the College Conversations tour you just finished, now that you're a little more famous?
Cole: It was beautiful. One of those surreal moments. One that you get every few months, maybe every six months, like when Blueprint 3 dropped and I was onstage in front of 20,000 people for the first time. You get a few of those moments in your life, and that was definitely one of them—a career moment.
Paste: Are you still aiming for an August release for your debut?
Cole: I'm trying man. I'm trying to shock the label with this incredible song I just wrote, and get them on my schedule, my timetable. You'll hear about that in a few weeks.
Paste: What's it been like working with producer Jim Jonsin? That's gotta be exciting, when this is the dude who produce Lil Wayne's "Lollipop."
Cole: Yeah, that was dope. I only worked with him for a few days in Miami, but it was an incredible experience. We got a really dope song together. I didn't know what to expect form that session, and I came out from that with an amazing song.
Paste: Is that gonna be the next single after "Who Dat"?
Cole: Naw, I'm saving it for the album.
Paste: I read about B.o.B talking on Lupe Fiasco's All City Chess Club hip-hop supergroup, and he said you were involved. What's the deal with that?
Cole: (Laughs) That's Lupe's brainchild right there. I'm not sure about all the details. He definitely hit me up and asked me to be a part of it, but it literally just happened. I don't think we're even still 100% on who all the members are gonna be. But if I can do it, I definitely want to.
Paste: You've had a real active presence on the Internet, especially on the Canibus-Central message boards. Do you think the Internet is the best way for rappers to get their sound out, that other rappers should follow in your footsteps?
Cole: Well, it's not quite where I got my start. I was already making songs and doing my thing in the world, and I just happen to also be a huge Canibus fan. That fansite was a real community. They're all over the place—right now there's a big Joe Budden fan community, just a bunch of kids who love this rapper. I do feel like it's a good outlet for kids. For me, I was just such a rap fanatic, I wanted to rap everywhere—on the school bus, at the lunch table, at the high-school football game. Then I would go home, and me and my homeboys would get on the phone doing three-ways, and then you've got ten niggas on the phone, everybody's rapping. And then we all go online—that was my mind state. It's not the be-all end-all for hip-hop, but if you're really into it, the Internet is another great avenue for you. You've got a bunch of ears just ready to listen to you. But the drawback is, some of these people are probably posting up songs and doing stuff before they're actually ready. You're almost setting yourself up for failure. What if, right now you're not as good as you're gonna be in five years, because you're only a 17-year-old kid. But what if five years from now you get really really good, but then all your wack shit from when you were a teenager comes out. There's good and bad to it, I'd say.
Others Tagged With