Best of What's Next: Sahara Smith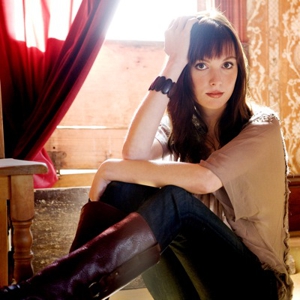 Growing up in Wimberley, Texas, a few dozen miles south of Austin, Sahara Smith started playing music since she was 12 years old. A few years later, she placed second in a talent competition on A Prairie Home Companion, and after that, it seemed like only a matter of time until she slid into the national music scene. There were some hiccups along the way—a label collapse, and then the pesky matter of college classes—but her smoky voice, bluesy folk sound and lifetime love of Leonard Cohen and Tom Waits have finally been captured on her debut album, Myth of the Heart, coming Aug. 31. Recently, before embarking on a cross-country tour with singer/songwriters Mason Jennings and Nathaniel Rateliff, 21-year-old Smith took a few minutes out of her Friday to talk with Paste about her earliest songwriting, her favorite music and making a record with T Bone Burnett.
Paste: Can you just tell me a little about how you got started and what it was like?
Sahara Smith: Well, I started doing coffee house gigs when I was about 13 or 14 in my home town, Wimberley. Then, when I was 14, I heard about this talent contest on Prairie Home Companion for people between 12 and 20—I think they call it "Talent from 12 to 20." I sent in a tape, and got accepted onto the show. From there, I got a manager and started playing around Austin.
Paste: Is it something that your parents pushed you to do or really supported you doing?
Smith: My parents definitely supported me doing music. I wanted to graduate a year ahead of schedule and do music for a year and my parents were all about that, which is unusual. I actually wanted to go to school right away but my parents thought that it would be a better idea if I did music for a year and then went to college. ... I went to a community college to try and get my basics out of the way and while I was doing that music just started to take off.
Paste: How did recording this upcoming album come together?
Smith: The first record label that I visited—I think I visited them when I was 17 or 16—we went up there and the plan was they were going to give us a contract within the month because we just absolutely fell in love with each other and it seemed like a perfect fit and then the company collapsed. So it's been a long saga of that. Eventually, we just decided we were gonna make this record, and either I would be on my manager's label or we would find a label to press the CD once it was already made. So we thought about who we would want to get to produce the album and just sort of unanimously agreed that T Bone Burnett would be the best. So my manager just kind of on a whim sent him my MySpace page and he asked us if we could fly up to L.A. so he could meet us. So we went up to L.A. and recorded a couple of demos at his studio. One of his engineers, Emile Kelman, was just beginning to branch out and do some production of his own, so Emile produced the project and T-Bone oversaw the project and we used a lot of the same people from the Robert Plant [and] Alison Krauss Raising Sand album. I think it just wound up being really magical.

Paste: What was working with them like—the band that you played with on the album and T-Bone and that entire crowd?
Smith: Well, the guys were amazing. I think Jay Bellerose, the drummer, really drove a lot of the project and influenced the underlying sound of it. We would just go into the studio and start playing and we did overdubs later, but the initial tracks are all there live with us just playing together. So it just felt really alive and really energetic, I think, because of that. I've never had so much fun working with musicians as I did with those guys.

Paste: Have you ever recorded stuff before at home or on friends' equipment or anything like that?
Smith: Yeah, starting when I was about 12 I had an 8 track. (Laughs) I would just sit in my room all day and record songs that I was working on. That's kinda how I started doing it, and then friends would kind of help me out with those along the way. It was gradual for a while, just to have a record of my songs so I didn't forget them.
Paste: How did you decide which songs to record on this LP?
Smith: A lot of the songs that I've written we recorded as just acoustic tracks that we'll use later on. Basically, we had to choose, I think, 16 songs to do. ... One of the songs was called "Circuitry" but we were in the studio and we were trying to play it and it just wasn't coming together. So I was just—I think we were having dinner and I was kind of sitting on the floor with my guitar playing a song that I'd written when I was 13 and Jay Bellerose was like, "What is that song? Why haven't we heard that?" and I said, you know, "I wrote it when I was 13—I didn't really think it'd be on the album." But he really wanted to record it so we went in and recorded it and it wound up being one of the tracks on the album.
Paste: In terms of your style, where do your influences come from?
Smith: I think especially when I was younger and first starting to write songs—I found a songbook recently of mine from when I was 12, I think, and it's just sort of all over the place stylistically. It's all sort of in the folk genre but it just kinda has everything going on in it. I definitely have the same influences as I did back then, but I think I've refined them into a collection of sounds that are my own now.
Paste: Kind of the way you start off with anything—you kind of gravitate towards the things you enjoy and kind of evolve from that.
Smith: Yeah, exactly, you figure out who you are by experimenting.
Paste: What are you listening to right now?
Smith: I still listen to the same music that I've listened to forever, like Townes Van Zandt, Leonard Cohen and Tom Waits. I've been trying to write really memorable melodies but still have a lyrical complexity to them, so I'll listen to a bunch of Leonard Cohen and then I'll listen to a bunch of Tegan & Sara. (Laughs) They just kind of meet somewhere in the middle.
Paste: You're gearing up for a tour, I know. What are you most excited about?
Smith: Well, just kind of seeing the country. I've never been to the Northeast—it's the one sector of the United States that I've never been to. Next week, I get to go to Virginia and New York, I'm really excited about that. I hope I see the Met.
Paste: What are your top destinations in New York City?
Smith: I definitely want to go to the Metropolitan Museum of Art. Basically just museums, really, I don't really want to go to a show or walk around Central Park or anything, I just want to go to museums. ... So far, I've really only done gigs in Texas, so it'll be interesting to see how people's perception of my music changes as I go across the country. I'm anxious to see what regions stick.
Others Tagged With