Best of What's Next: The Loom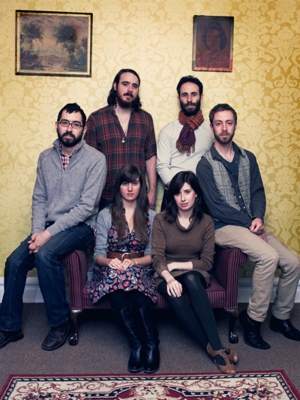 Hometown: Brooklyn, NY
Album: Teeth
Band Members: John Fanning (vocals, guitar, piano, ukulele), Sydney Price (keyboard, vocals, percussion), Lis Rubard (trumpet and french horn), Dan Desloover (bass and vocals), Jon Alvarez (drums and vocals), Alex Greiner (guitar, banjo, and accordion)
For Fans Of: The Arcade Fire, The National, Beirut
The six members of Brooklyn's The Loom didn't all start out as friends—one of them came by way of Craigslist, and another was brought on after an audition—but you'd hardly guess it. These days, the band's intra-band camaraderie is palpable. That perhaps-unlikely closeness especially comes out on stage, notably in how lead singer/instrumentalist John Fanning's folky every-man tenor blends with keyboardist/percussionist Sydney Price's bell-toned alto, weaving rich sonic tapestries with an intangible joy.
"The thing I love about playing live is the joy of doing it in the moment," says Fanning. "The arrangements are all there, but the songs can change in the moment. The way the live show goes is very much dependent on the interaction of us playing and the interaction of the crowd. There's a joy of playing live and a spontaneity."
Though the members of The Loom happily fund their music with a smattering of day jobs (ranging from research assistant to volunteer coordinator to waiter), they're just about ready to pursue the band full-time; they're currently shopping around their debut LP, Teeth, hoping that the shadow-cast, quick-paced folk-rock will catch on with the right label. Until then, well, at least they have each other.
"Despite the fact that some of the people in the band have become involved through not totally just personal relationships, I think it's ended up working out really well and we've all become really close friends even if we didn't know each other at the outset," Fanning says. "They're my best friends."
Others Tagged With