Catching Up With... Deer Tick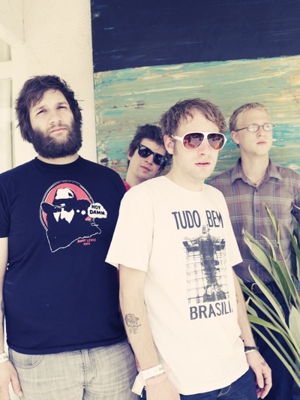 John McCauley III is lying on a couch in the basement of Cleveland's Beachland Tavern, looking equal parts hungover and still-drunk. It's 8:30 on a Saturday night in early May, and in a few hours, his band Deer Tick will electrify a sold-out crowd, thrashing through a vigorous set of fast, loud, country-leaning rock songs. For now, though, his mind is on more pressing matters. "You can't charge two drink tickets for one cup," he says, staring down at a double vodka on the rocks he ordered from the bar upstairs.
He rises from one couch and relocates to another, joining his bandmates around a glass coffee table littered with bottles and cigarettes. Deer Tick is playing in Ohio tonight on a short respite from a cross-country tour with Dr. Dog; nights off are for the weak, it seems. The band has a new record to push, called The Black Dirt Sessions, and there's no sense in not playing, weary or not.
The Providence, R.I. band's first two albums, War Elephant and Born on Flag Day, were steady (if not predictable), whiskey-gulping rock records that almost basking in their own self-awareness. They garnered the band plenty of love from young fans who loved to drink and sing along, as well as older fans who simply loved the idea of Deer Tick—there's a bit of danger to the group, like rock bands used to be. On Black Dirt, though, Deer Tick has created a deeply-layered opus of slow-building and timeless rock'n'roll. For those paying close attention, Deer Tick's music finally matches it appeal.
But to the band, the record is just that—a record. "Honestly, no," says McCauley, answering whether he felt he was onto something special while recording. "I've been sitting on many of those songs for years. It's more of a collection of really amped-up old tape demos I had lying around. But I'm really happy. I think it's our best."
Black Dirt's lengthy gestation could account for its variety; the record includes both Deer Tick's simplest and most complex songs to date. The five-minute "Mange" is a swampy jam that builds to a full-on guitar hailstorm; meanwhile, parse piano ballad "Goodbye, Dear Friend" is a six-year-old farewell to "this kid that I knew," McCauley says, his voice quieting. "His house caught on fire and he passed away. That song is about his funeral."
McCauley may speak humbly of the record, but it's clear he's thinking big. Deer Tick is one of those "save rock'n'roll" bands—partying hard, rocking harder and casting aside all irony, artiness and subtlety. "We've all been listening to albums we really like and trying to figure out what's keeping us from that," McCauley says, citing Exile on Main St., Pleased to Meet Me and any assortment of Neil Young classics as would-be touchstones. "How to arrange our songs as a bigger picture, instead of everyone just hammering them out at once."
That growth will be most evident, he says, on the album that comes after Black Dirt, which is already written and ready to go. New guitarist Ian O'Neil, formerly of like-minded punks Titus Andronicus, speaks most excitedly about Deer Tick's next step. While Young, Petty and The Band have long been Deer Tick's most obvious influences, he says, "old R&B, Sam Cooke—that's coming out more in our new-new songs. But that hasn't been documented yet. There are definitely influences that haven't shown up on record yet."

"If we had more time in the studio, we'd make a record a year," McCauley adds. "Even more often than that."
When the band takes the bar's tiny stage later that night, the crowd stares adoringly. One fan spends the show standing in front, perpetually armed with McCauley's next drink. The foursome play a few tunes off of Black Dirt—their new record, but not for much longer.
Others Tagged With