Chris Thile Talks New Punch Brothers Album, Working With Jon Brion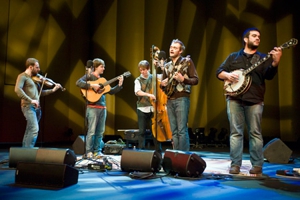 Like most any other close-knit group of young dudes, mandolin virtuoso Chris Thile and his bandmates in the Punch Brothers call each other by nicknames.
Chris Eldridge has been and will always be "Critter." Fiddle player Gabe Witcher is both "Gabbers" and "The Judge," the latter of which a name frontman Thile says comes from his ability to end a conversation with a gavel-like sharp remark. Banjoist Noam Pikelny is, appropriately enough, "Pickles." Paul Kowert is "Arco Paulo," a play on the Italian explorer/swimming pool game and his ability to play the bass with a bow, in the "arco" style. Thile won't talk about his own nickname, though. Sometimes, things are just too inside.
But "inside" is just the vibe the Punch Brothers are going for. They want the crowd to feel like they're in the living room of one of the musicians' apartments, just hangin' around with the guys, having a few drinks and jamming. A good band, Thile says, should feel like a group of friends, both to each other and the audience. "For me, that's an extra musical reason why The Strokes got so popular," he elaborates. "It was a close-knit group of guys that had their scene and were super cool and they ruled the East Village with an iron fist. I think that was attractive to the world, that idea, that group of friends. That's one of the services a good band provides: a vibe that you can appropriate. They give you a window into another way of life."
It's been a few years since Thile, in the wake of divorce and departure from his previous band, Nickel Creek, first brought the members of the Punch Brothers together to record "The Blind Leaving the Blind," a string quintet with four distinct movements constructed with traditional bluegrass instruments instead of the usual violins and violas. Thile and the band aren't shy about their ties to more symphonic styles. In a preview scene for How To Grow A Band, Mark Meatto's upcoming documentary about Thile and the Punch Brothers, the quintet successfully blends banjo, mandolin and arco bass rumblings for a beautiful performance of Bach's Brandenburg Concerto No. 3.
Just don't call the music the Punch Brothers are making "bluegrass." Or classical, for that matter. "We love these instruments that we play but there's such a stigma attached to them," Thile says. "People hear them and they hear bluegrass. There's lots of listening with the eyes going on. People from maybe the side of music that I'm most familiar with would turn themselves off from Radiohead because they look at it and go, 'Rock band!' And that's just not fair. And even the same with classical composers, you sit there and go 'Classical! Buttoned-up! Where's my suit? I'm not comfortable.' You may be gypping yourself from some incredible experience."
With a defined and defying sound, a more clearly asserted identity and a brand-new bassist in Arco Paulo, the Punch Brothers released their latest album, Antifogmatic, this past Tuesday (June 15). The title, Thile says, comes from an antiquated term for a bracing alcoholic beverage, usually rum or whiskey (he describes the album, fittingly, as "whiskey-soaked"), drank in the morning to clear one's head and help one face the day. It's a concept, he says, that is very easily applicable to music. "You hop on the Subway here in the city, more than half the people are on their iPods, listening to whatever gets them through their day," Thile says. "Musical antifogmatics. In life, you need these things. Your friends are antifogmatics. Your family is an antifogmatic."
On Antifogmatic, the guys sound more sure of themselves, more polished, more self-aware. The warm harmonies and crisp mandolin plucks and fiddle strains on tracks like "Alex" and "This is the Song (Good Luck)" ring with the resounding clarity the album's title suggests.
The album was recorded at Ocean Studios with acclaimed producer Jon Brion behind the boards. Thile says Brion was "very hands-off" with arrangements, but in the recording studio he was like a mad scientist, driven by experimentation. "He'd be getting right up in the middle of us and squatting down so the instruments were at the level of his ears," Thile says. "That's what he wanted to hear in the speakers. And after two whole days after that kind of experimentation, he'd go 'Yeah, that sounds like us.'"
In addition to the release of Antifogmatic and extensive touring, the guys also took some time out to cut a few tracks for country superstar Dierks Bentley's covers album, Up on the Ridge. Covers are a challenge the band takes on with enthusiasm (they recently released a groovy rendition of The White Stripes' "Dead Leaves and the Dirty Ground"), especially Thile, who would regularly incorporate reworkings of songs by Pavement, Radiohead and Britney Spears into his sets with Nickel Creek. He says constructing the perfect cover is like being in a relationship. "If you give it, everything you've got, you take on some of that person," Thile explains. "If it doesn't work out, you're still changed forever after that, hopefully for the best. In the realm of covers, you choose material wisely and you choose something that you love and you try and get inside of it because it's really difficult to know what you love about something until you go about incorporating it into your own creative acts."
But Thile says, covers aside, the band isn't finished with the material on Antifogmatic quite yet. They're focused now on touring, on getting their music to the people and seeing just where it goes from there.
"I think we'll know what to do after that," Thile says.
Got news tips for Paste? Email news@pastemagazine.com.
Others Tagged With