Update: Danny Boyle, Stephen Daldry to Direct London Olympics, Promise Zombie-Free Ceremonies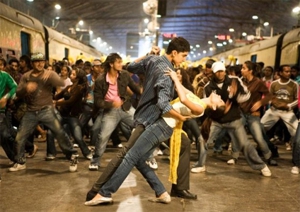 Choose London. Choose a fancy sports complex in the eastern part of the city. Choose Mick f***ing Jagger for the opening ceremonies. Choose two top-notch British filmmakers to direct the thing.
UPDATE: Today, Oscar-winning director Danny Boyle announced he would be the artistic director for the opening ceremonies at the 2012 Summer Olympics in London. According to Reuters, Boyle said he promises a "genuine and personal welcome" for the world's athletes and the global community.
Joining Boyle is another beloved British filmmaker. Stephen Daldry, whose credits include Billy Elliott, The Hours and The Reader_, rounds out the four-person creative teamdaldry.html (along with Beijing designer Mark Fisher, producer Catherine Ugwu and TV director Hamish Hamilton) in charge of overseeing the creative process for the opening and closing ceremonies for the 2012 Olympic and Paralympic Games.
Boyle dropped a few hints about the opening ceremonies, which have an operating budget of 40 million GBP, including the emphasis placed on the actual lighting of the torch and that "zombies would not be running around on stage." Bummer.
Boyle and Daldry will be following the critically acclaimed 2008 opening ceremonies in Beijing, helmed by Chinese filmmaker Zhang Yimou.
—
The Times has reported that acclaimed British director Danny Boyle, best known for helming the cult hit heroin flick Trainspotting and Best Picture Oscar winner Slumdog Millionaire, has been tapped to direct the opening ceremonies for the 2012 Summer Olympics in London.
According to the report, Boyle's creativity and ability to bridge cultures made him the ideal candidate and would help to make the ceremony innovative and representative of London's status as a multicultural city. "Nothing has been signed yet, but we do fully expect him to do it," one source close to the planning process said.
When asked about it by the Times, Boyle neither confirmed nor denied, adding, "It would be lovely, wouldn't it?"
Boyle isn't the first high-profile Brit to be rumored to have a role in the opening ceremonies. Back in the fall of 2008, following the spectacle that was the Beijing summer games, rumors of a Super Bowl halftime show-esque collaboration between Mick Jagger, David Bowie, Elton John and other British rock 'n' roll luminaries was in the works for the London Olympics.
The Rolling Stones have already confirmed they will be performing at the ceremonies.
Got news tips for Paste? Email news@pastemagazine.com.
Others Tagged With