Justin Townes Earle Talks Relocation, New Album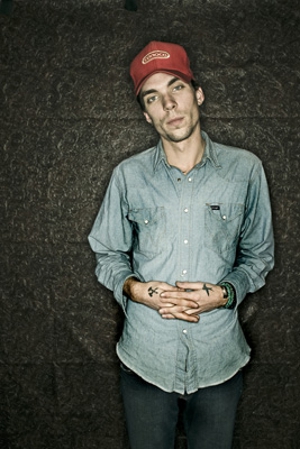 When I meet up with Justin Townes Earle, a thunderstorm rages outside, sheets of rain pouring down from a menacing sky. A few hours before his opening for The Swell Season at Atlanta's Symphony Hall, though, Earle is leaning back in a black metal folding chair, calmly alternating between bottles of beer and water, a Southern drawl slowly, steadily keeping his sentences afloat.
"It's always weird getting in front of different peoples' fanbases and trying to collect as you go," Earle tells Paste, crossing one lanky leg over the other. "You never know what you're going to say."
The Nashville native and son of the legendary Steve Earle is at a pretty thrilling point in the career of any musician; he's found a new home in New York's East Village, and on top of his three-day stint opening for The Swell Season, he's embarked on a busy summer tour that'll take him all over the east coast and into Canada. Most importantly, though, he's hot off the heels of recording and co-producing a new full-length studio album, Harlem River Blues. "I drove over the Harlem River one time and it was just the most desolate-looking thing I'd ever seen," Earle says of the body of water that gave his forthcoming album its title. "It's way up in the northeast of Manhattan, it comes down out of the Bronx, down into Harlem, and it's just the nastiest body of water you've ever seen in your life. And I guess it just kind of inspired me a little bit."
According to Earle, Harlem River Blues reflects his relocation to Manhattan and is a departure of sorts from his previous records, The Good Life and Midnight at the Movies, which he describes as leaning toward more of an "old-time base." For the new album, he says he wanted to evoke the soulful sounds of Memphis, The Staple Singers and Otis Redding, hence enlisting former Drive-By Truckers guitarist Jason Isbell. It seems just about impossible to ruffle the composed Earle, bespectacled in thick, tortoiseshell glasses, but he nearly gushes about Isbell: "He's just, you know, he can, I mean, the man's magic. I mean, what he can do is just absolute magic."
Harlem River Blues is Earle's first venture into producing; he and longtime friend/piano player Skylar Wilson co-produced the album together. Along with Isbell, it features the likes of Brian Owings on drums, Calexico's Paul Niehaus on the pedal steel guitar and Ketch Secor from Old Crow Medicine Show playing harmonica. The record is also Earle's first after his Manhattan move—an adjustment that unquestionably influenced the born-and-bred Nashvillian. "I find that I write quicker. I'm a very painfully slow songwriter, I can take up to six months to write a song, even a simple little song," Earle explains. "I don't sit down and write. I'm a cocktail-napkin writer, but I find in New York there's just too many experiences. Everywhere you go it's like there's something going on. You see something amazing every block. Every time you turn a corner, there's something amazing going on."
Although Earle calls New York home now and claims he'll never leave, his upbringing is inescapable; from the twang in his voice, to his manners to his taste in music, he's a Southern man through and through. But with this new record and a new locale, he certainly seems content to leave his past behind. "I love Nashville, Tenn. and I love the south, but Nashville—I was born and raised there, and I lived and died in those streets," Earle says, his voice trailing to just above a whisper. "You know, I got ghosts that most people can't imagine in Nashville, Tenn., not to mention every crazy bitch that I was ever with in my life. So I've just decided to relinquish Nashville to the ghosts and move on, follow Woody Guthrie. Follow him down the foxhole."
Got news tips for Paste? Email news@pastemagazine.com.
Others Tagged With