Listen Up: A Bend in the River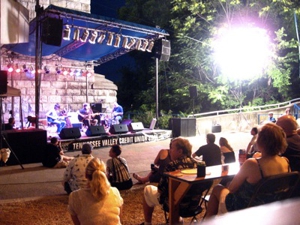 The city I grew up in grew up around a river. And every summer since just before I was born, for a string of days in June, a mile or so of Riverfront Parkway—what Chattanooga calls the stretch of State Highway 58 as it ekes through our downtown, running right alongside our particular stretch of the Tennessee River—gets blocked off on both ends, stages get set up and chugged in on barges, beer stands and food carts rolled in, and tens of thousands of blankets and collapsible lawn chairs thrown down on patches of grass and oil-stained concrete. The area's more often the terrain of cars and trucks, or tourists and school groups tramping through on foot to visit our hulking, pointed-roof aquarium or any number of other museums and shops and restaurants in the surrounding blocks. But for the week of the Riverbend Festival, it's a wide rolling boulevard of the people, a noisy mass of cutoff shorts and tank tops and sweaty ponytails and sandalled feet.
The festival started out small but has grown over the past thirty years to boast five stages, all stationed at various points along the one-mile block of road, which stretches up from a newly-built public pier and park right on the riverfront, passes under three different bridges and crawls up a hill to the art district. Admission comes in the form not of tickets or wristbands but lapel pins that come in a new design each year and are hawked feverishly at local gas stations all through May; the festival itself runs on a strange economy of shiny plastic coins, bought for cash and traded in by the handful for hamburgers and turkey legs and beer. You always feel like you're getting ripped clean off but it's best not to stop to do the math—and anyway, you always find yourself thinking of the funnel cakes in mid-October, when a thousand fall festivals could basically satisfy the same fried-dough needs, just not with that certain twinge of salty face-sweat running down and the lingering scent of truck-exhaust rising up from the hot pavement.
The gates open up in the evening right after work and the latest-running acts walk off the stage around midnight or so. It's hardly the day in/day out musical marathon of Bonnaroo, which for the past eight years has gone on around the same time sixty miles to the north; it doesn't pull in the same sort of talent, either, with the lineup every year seeming like some kind of teetering tightrope walk besot by budget and need for broad appeal. But I've always wondered if the lineup even matters all that much; Riverbend is a music festival that so often, and so easily, becomes not very much about music at all. It has always seemed to me that people will go just because it's there, just because it's happening—just because it's Chattanooga. And it's June. And it's what you do.
When you're a kid, you get toted in on your parents' shoulders or pushed in a stroller through the sweltering throngs; you sit on blankets or run around, sweaty and squealing, through the crowds during the sets of bands that years and years before were doing something great, which you will realize only later in your life. Clowns on stilts make you balloon animals, which you hold tight in the crook of your arm while eating Dippin' Dots, which will never quite make good on its ice-cream-of-the-future promise. When you walk around you are so small that you see nothing but sunburned knees and cut-offs; you are oblivious to the strange scope of everything around you.
When you're a teenager, in middle school or in high school, maybe your parents will let you split off from the corral of folding-chairs they've set up in the corner of one parking-lot with all their friends from church, or maybe you can get real lucky and convince them to drop you off outside one of the gates on a night they're not going in. If your friends don't have pins, it doesn't matter; there are ways to sneak them through the gates, if you plan it right. If you don't have a cell phone, you will spend your whole night walking the festival grounds from end to end, trying to meet up with whoever it was you said you might meet up with and probably never finding them, but you won't care too much; there are free frisbees from vinyl-siding companies and drawings for new cars from local auto dealers to sign up for (your mom's boss won one once, so you think you have a pretty good chance!) and kettle corn to eat for dinner, and the kids' talent stage to quietly mock from the back of the crowd and funny things to take pictures of yourself standing in front of. There are people to see—people you don't want to see you and people you desperately do—and Riverbend feels like it is the only place in your small world where any of this could happen.
When you're in college, you do not go because you have Opinions About Things and your Opinion About Riverbend is that the lineup is broad and sad and pandering, and that the food is disgusting and overpriced, and that it's just too hot and the crowds will probably give you a panic attack. And also you don't want to see anyone from high school.
A few years later, though, you decide that you don't care, and it's not that bad, and you can just wear light clothes and suck it up and no one's going to recognize you anyway. And so you go back—like I did on Saturday night, with my dad and my boyfriend—with the intention of sitting at the stage sponsored by the local credit union, a stage under a bridge, which smells a bit like sewage but is in the shade and out of the way of all the sunstroked, meandering crowds.
You go back and you unfold your chairs and drink the overpriced beer you were never old enough to drink before and fan yourself with a folded-up paper schedule and hold your breath when the breeze does blow only to push the strange muggy sewer smell further up into your nose. You watch a man in crisp white pants and navy blue shirt and white conductor's hat who is named Roy Harper but is not the Roy Harper you think he is at first play songs about cotton fields and trains; you watch a Nashville songwriters showcase and wonder what it's like to be able to write songs so good that Faith Hill records them and makes them hits big enough to make you rich but still not be able to sing all that great yourself. You eat chicken-on-a-stick; you wander out from under the bridge for a bit with your boyfriend, who in high school you once followed all around the festival like a kid on a string, until the crowds become oppressive; you return to the stage under the bridge just in time to watch Ray Wylie Hubbard play "Snake Farm," then spend the next hour loving every single moment of his set but really just wishing he'd play "Snake Farm" a second time. And then he does. You're happy about it but you're not sure why he'd do that. Maybe he forgot about the first time. Maybe he likes it as much as everyone else does.
Or maybe just because it's Chattanooga. And it's June. And it's what you do.
Rachael Maddux is Paste's associate editor. Her column appears at PasteMagazine.com every Monday.
Others Tagged With