Watch the Video for MGMT's "It's Working"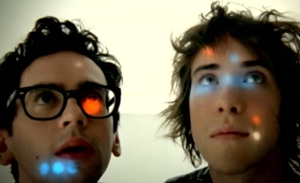 MGMT have a track record of releasing trippy-bizarre videos that pair nicely with their trippy-bizarre music. Their latest video for "It's Working," off Congratulations, is no exception.
Directed by So Me, who's also responsible for Justice's first-rate "D.A.N.C.E." video, "It's Working" starts off in a pretty non-weird, even borderline mundane, manner: MGMT's Ben Goldwasser and Andrew VanWyngarden come across a box containing a construction manual with several convoluted instructions. Looks like it's time for MGMT to build stuff!
It's what's inside the box that makes the video turn sidewise, though. In addition to changing Goldwasser's and VanWyngarden's clothes into all different sorts of rainbows, the giant box-like contraption functions as a photo booth and produces a sombrero-sporting drummer whose beats make fluorescent soft-serve ice cream that's later eaten by a small child in a Sgt. Pepper-esque getup. Then a beautiful, oversized ballerina floats down from the heavens and balances on the shoulders of a man in a tuxedo playing a guitar. Later, three old dudes appear and point off-screen and, well, we won't give it all away. Watch below:
Got news tips for Paste? Email news@pastemagazine.com.
Others Tagged With