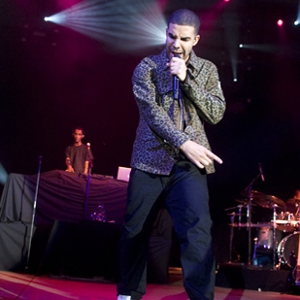 Drake can thank his first single, "Best I Ever Had," for jump starting his career. And, apparently, he can thank Playboy for "Best I Ever Had."
Last Friday, the gentleman's magazine turned pay-per-view network turned hub for reality television series revealed that it also had a finger in the music industry when it filed a formal lawsuit against Aubrey "Drake" Graham (along with Cash Money Records and Universal Music Group) for copyright infringement, reports The New York Times. No, it isn't asking to be compensated for the images of busty ladies used in the video for Drake's breakthrough, Grammy-nominated song. The company actually owns the 1975 Hamilton, Joe Frank & Reynolds tune "Fallin' in Love," which it claims Drake sampled without permission to create "Best I Ever Had."
We don't know what's more interesting here: that Drake failed to pay the bills on his first big hit, that Playboy somehow owns the rights to a sappy '70s ballad, or that a "men's entertainment magazine" has landed on the plaintiff side of a lawsuit.
Can't remember "Fallin' in Love"? Neither could we. Listen below:
Got news tips for Paste? Email news@pastemagazine.com.
Others Tagged With