Slayer's iPhone App: Heavy Metal Fun-der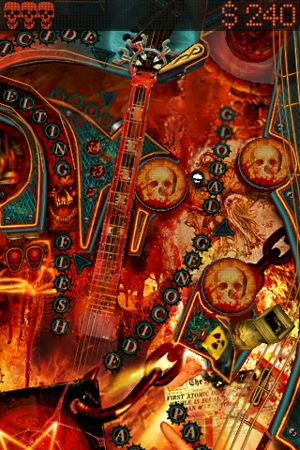 There's no way a game that begins with a menacing voice promising "Balls of steeeeeeel!" could possibly be disappointing.
Maybe that's not true, but that exactly how the downloadable pinball app for the metal icons of Slayer begin their downloadable pinball app for the (insert iDevice here), Slayer: Pinball Rocks, which showcases the music from their fall 2009 album, World Painted Blood. The game is an expert marriage of two things that were very popular with Generation X (metal and arcade games, though both certainly have their place in this millennium) with 21st-century technology, and the results are pleasing to the Gods of Rock.
What's especially amazing is the commitment to bringing out elements of a classic pinball machine in a tiny little app. The field of play (in stunning high-def graphics) comes complete with lights, tracks, an old-school LCD display of totally metal imagery (including a falling guillotine when you lose a ball) and, if you hit just the right spot, the always-fun multi-ball play option.
But it's the effective use of the band (and the brand) that makes this game so irresistible. The use of blistering cuts from World Painted Blood (including the title track) ramps up the adrenaline while you fire your ball over skillfully-drawn pentagrams and devil horns and into the mouth of a skull at the end of the board who then fires the ball out its eye socket. You can activate gameplay modes with phrases like "NO SANCTUARY" and "MELTING FLESH." And the sweet, sweet icing comes in voiceovers from Slayer's Tom Araya, who snarls and howls gems like "Neutralize!," "I WANT BLOOOOD!" and "PUT IT IN YOUR VEINS!" when you lose a ball or unlock certain bonuses. Of course it's over the top, but that's heavy metal for you, brah, and holy hell, is it fun.
As with in-real-life pinball machines, however, coordinating the gameplay speed can take some getting used to, and with these devices, there's the added challenge of incorporating the tilt function. And sometimes, the flipper you want to flip won't flip in time, or despite your best efforts, the wrong one will fire, and the start trigger occasionally takes a few tries to fire (which could be the result of my stubby fingers, but I digress). But the occasional gameplay glitch is made up for in abundance by awesome aesthetics and attention to detail.
The game also takes full advantage of the devices' capabilities with the "Guitar Mode" mini-game, where players can shred (erm, tap) along to the music. Unlocking the mini-game takes a load of patience for pinball novices, though—you have to light up each letter on one of several words on the board (a glaring "AGONY" or "PANIC") on one go to make it available. Even without the mini-game or extra modes though, there's still plenty of heavy-metal fun to be had with this one.
Slayer: Pinball Rocks HD is available at the iTunes Store for the iPod Touch, iPhone and iPad devices and costs $2.99.
Check out a gameplay demo here.
Got news tips for Paste? Email news@pastemagazine.com.
Others Tagged With